It was almost 1:00pm and we were already famished, but we couldn't find a place to eat. That's because all the nearby restaurants still had a long queue of people. We didn't want to wait too long for our food, and our safest choice then was H.K. Choi. Here, we ordered Seafood with Taro and Polunchay and Buttered Chicken.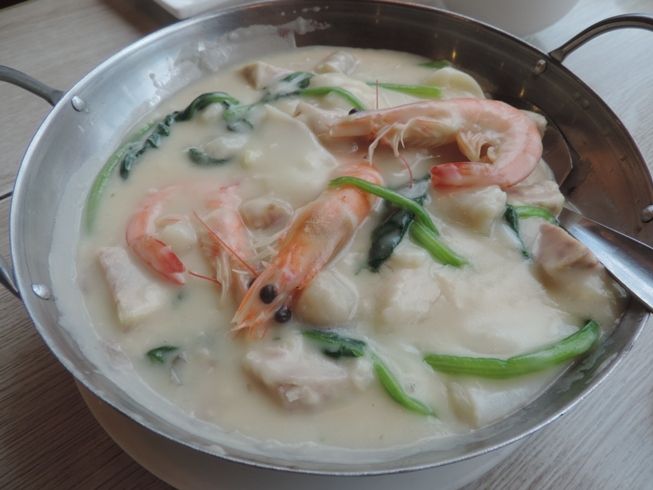 Seafood with Taro and Polunchay, Php300.00
As the name suggests, this seafood dish has taro fruit and polunchay or Chinese spinach. The seafood consists of fresh shrimps, fish and squid. The sauce was thick, creamy and flavorful with a very subtle hint of sweetness. Hubby and I loved this
Seafood with Taro and Polunchay
.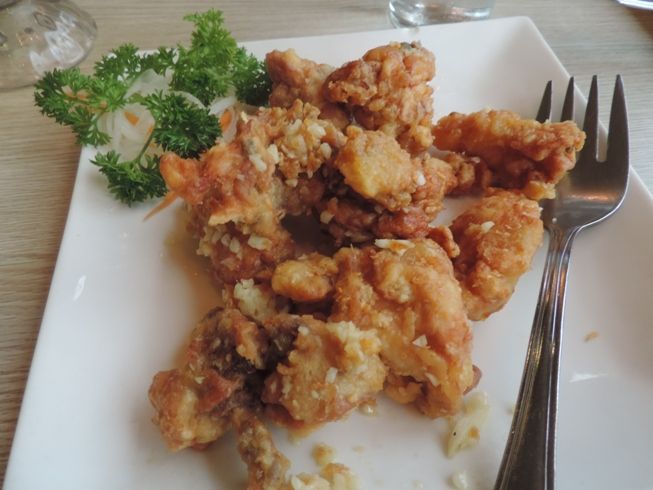 Buttered Chicken, Php260.00
Of course, we had to order something that our young man would like, and the
Buttered Chicken
looked okay. We made the right choice because Justin liked it a lot. It was a crispy and tasty chicken treat that all of us enjoyed.
Mango Shake with Sago, Php100.00
The combination of ripe mango and sago (tapioca pearls) was something I found irresistible, so I ordered
Mango Shake with Sago
. The mango was sweet and the small tapioca pearls were a delight to eat. Come to think of it, I hit two birds with one stone here. I bought a drink and dessert for the price of one. Lucky me!
Our lunch t H.K. Choi was delicious yet affordable. The waitstaff here was quite friendly, too. Too bad that H.K. Choi at SM Megamall would close soon.
H.K. Choi
2nd Level, Atrium
SM Megamall
Mandaluyong City