Because we wanted to maximize our weekend overnight getaway at One Tagaytay Place Hotel Suites, we didn't bother leaving the hotel to find nearby restaurants. Instead, we just went down to the hotel lobby and headed straight to Azalea Restaurant to have dinner. It's the same restaurant where we ordered our late lunch via room service. This time around, we tried one of their appetizers, the Suahe Spring Roll, and their Paksiw na Lechon.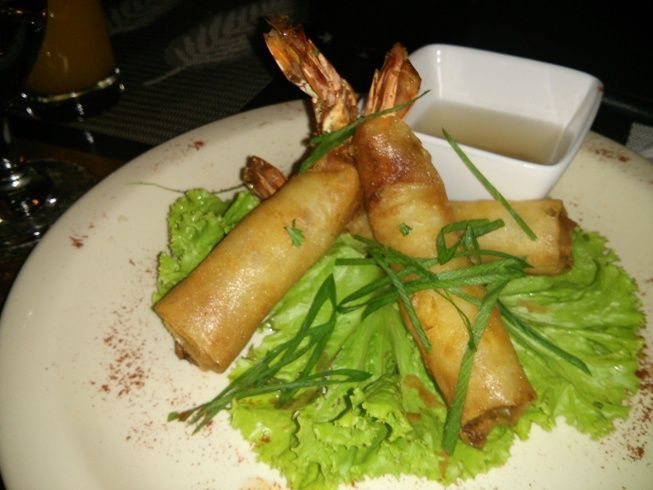 Suahe Spring Roll, Php175.00
This
Suahe Spring Roll
was a hit with the three of us. It was served hot and crispy, and the suahetasted oh so good! It was sweet, succulent and fresh! We enjoyed dipping it in spiced vinegar.
Paksiw na Lechon, Php575.00
This
Paksiw na Lechon
looked more like Pork Humba to me because of its characteristic dark brown color and the pork part used in this Pinoy dish. It also tasted like Pork Humba. We enjoyed it nonetheless because the pork knuckles were tender and tasty, and if you noticed, the serving was huge!
Belgian Chocolate Eruption with Mokaflor Linea Blu Coffee, Php250.00
We also ordered dessert, but we opted to have it delivered to our room. Hubby was enticed to order
Belgian Chocolate Eruption with Mokaflor Linea Blu Coffee
because of Azalea's Coffee Pairing promo. For only Php250.00, guests will have that dark and delicious but not overly sweet Belgian chocolate cake with unlimited Mokaflor Linea Blu Coffee from Florence, Italy plus 1 free Azalea coffee mug. Our son wanted that lovely ganache in the middle of the cake all to himself. Lol!
It was another delightful meal at Azalea Restaurant. Azalea's sumptuous food offerings are actually one of the many reasons why we had a pleasant stay at One Tagaytay Place.