I was excited – well, intrigued, actually — to attend the launch of Kenny Rogers' OMG Unfried Fried Chicken in their Katipunan branch last Saturday simply because it was the first time I actually heard of the phrase "Unfried Fried Chicken." How can fried chicken be unfried? Well, that's for us to discover and for Kenny Rogers Roasters to reveal.
We Filipinos love chicken, fried chicken, to be more specific. The crispy skin that crumbles and crunches with every bite and the juicy, wonderfully tender meat are simply irresistible! Pair it with a spoonful of soft, fluffy steamed rice and what you have is the perfect meal to perk up your day.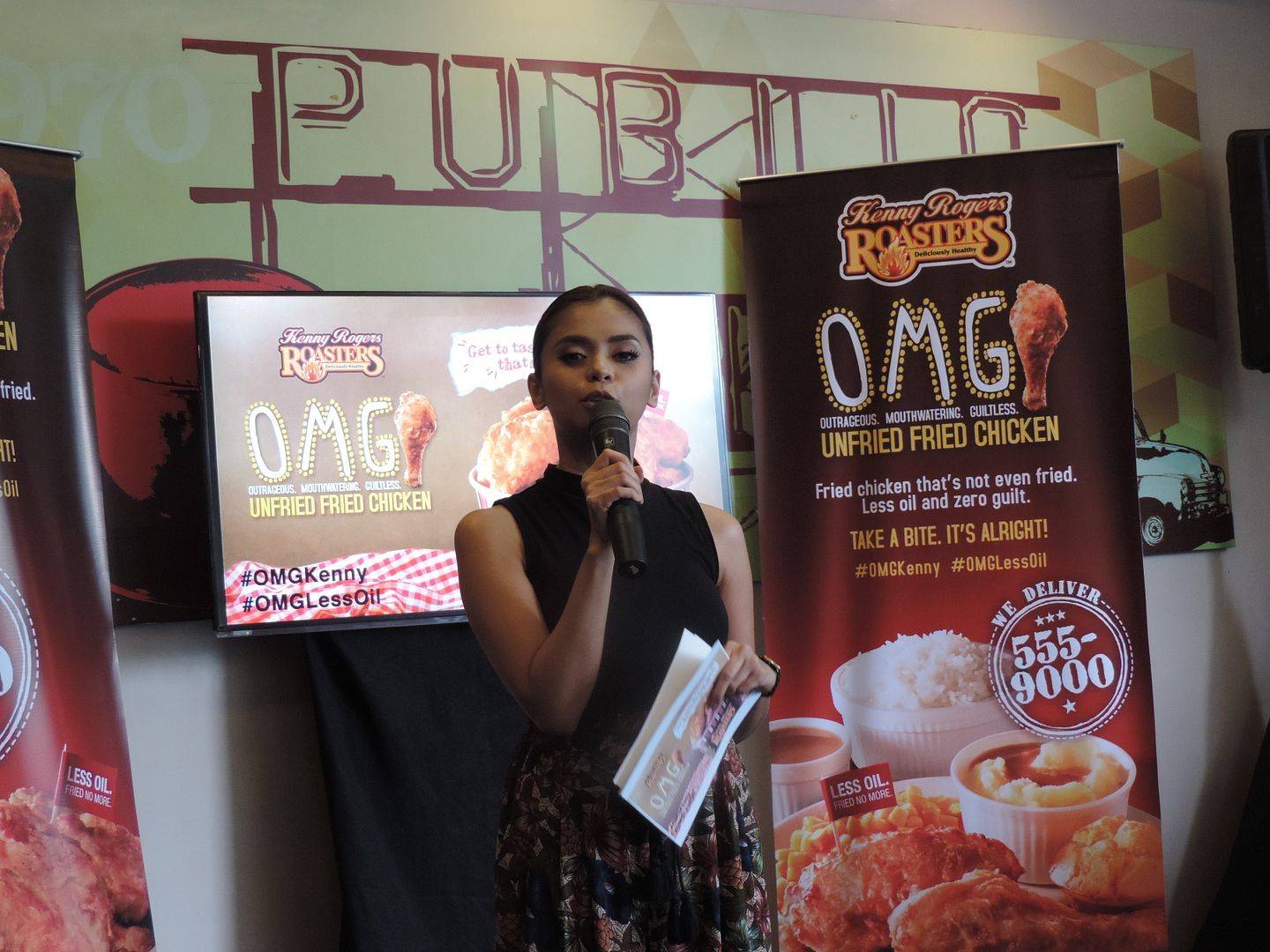 The lovely and vibrant host Ms. Rizza Diaz
But we also know for a fact that anything fried is not really healthy. While fried chicken is undeniably delicious, this comfort food that's deep-fried in oil should be eaten in moderation because eating a lot of it is not good for our body.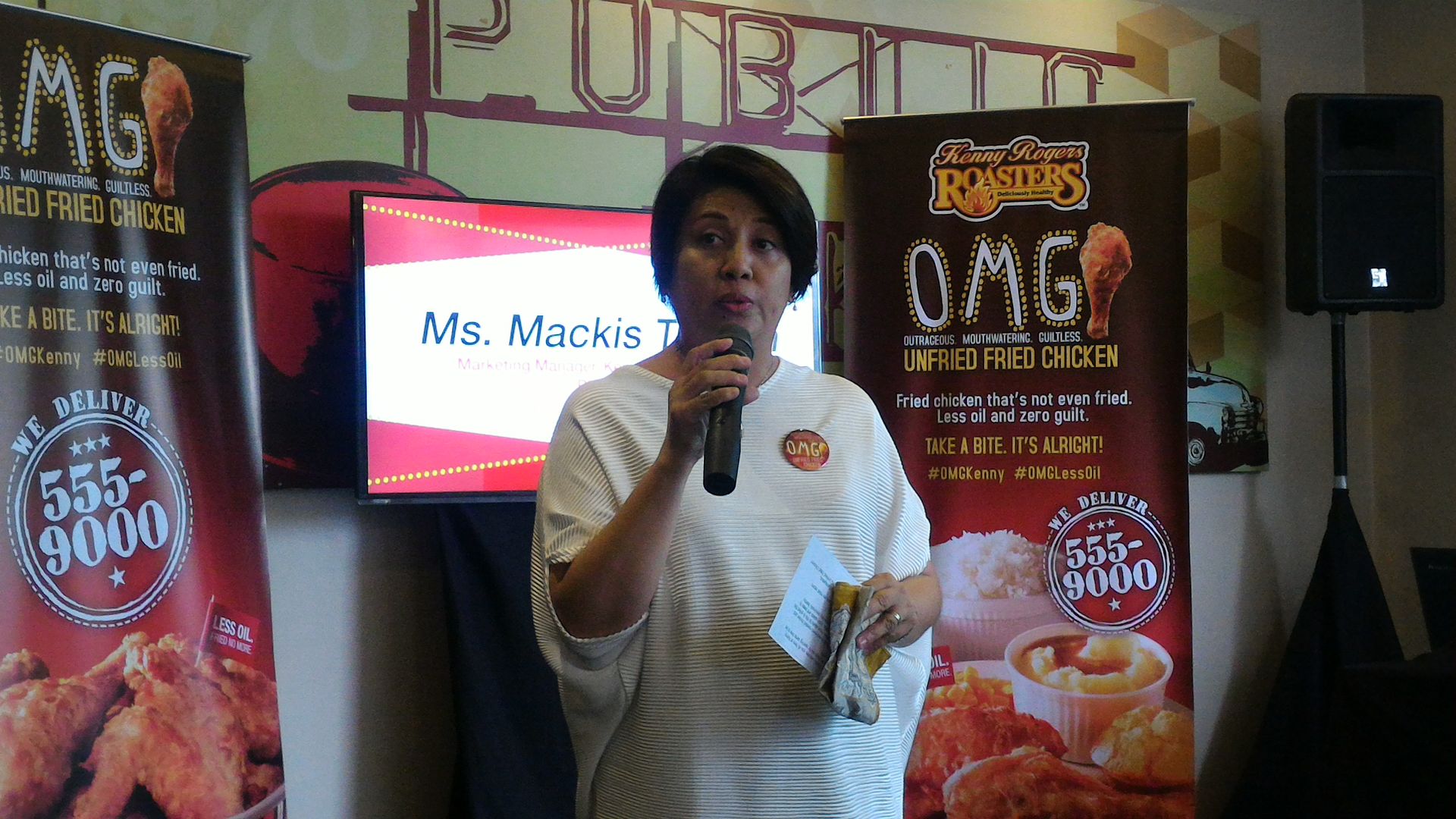 Ms. Mackis Tuazon, Marketing Manager of Kenny Rogers Roasters Philippines
According to the Harvard University School of Public Health, those who eat a lot of foods fried in oil are at a higher risk of type 2 diabetes and heart disease.
Ms. Lyka Caparas and Mr. Romar Padua, Marketing Officers of Kenny Rogers Roasters Philippines
Kenny Rogers Roasters now has a solution to this dilemma. With their newest product offering, we can now enjoy the delectable fried chicken without the guilt. OMG, really? Yes, it's possible with Kenny Rogers' OMG Unfried Fried Chicken!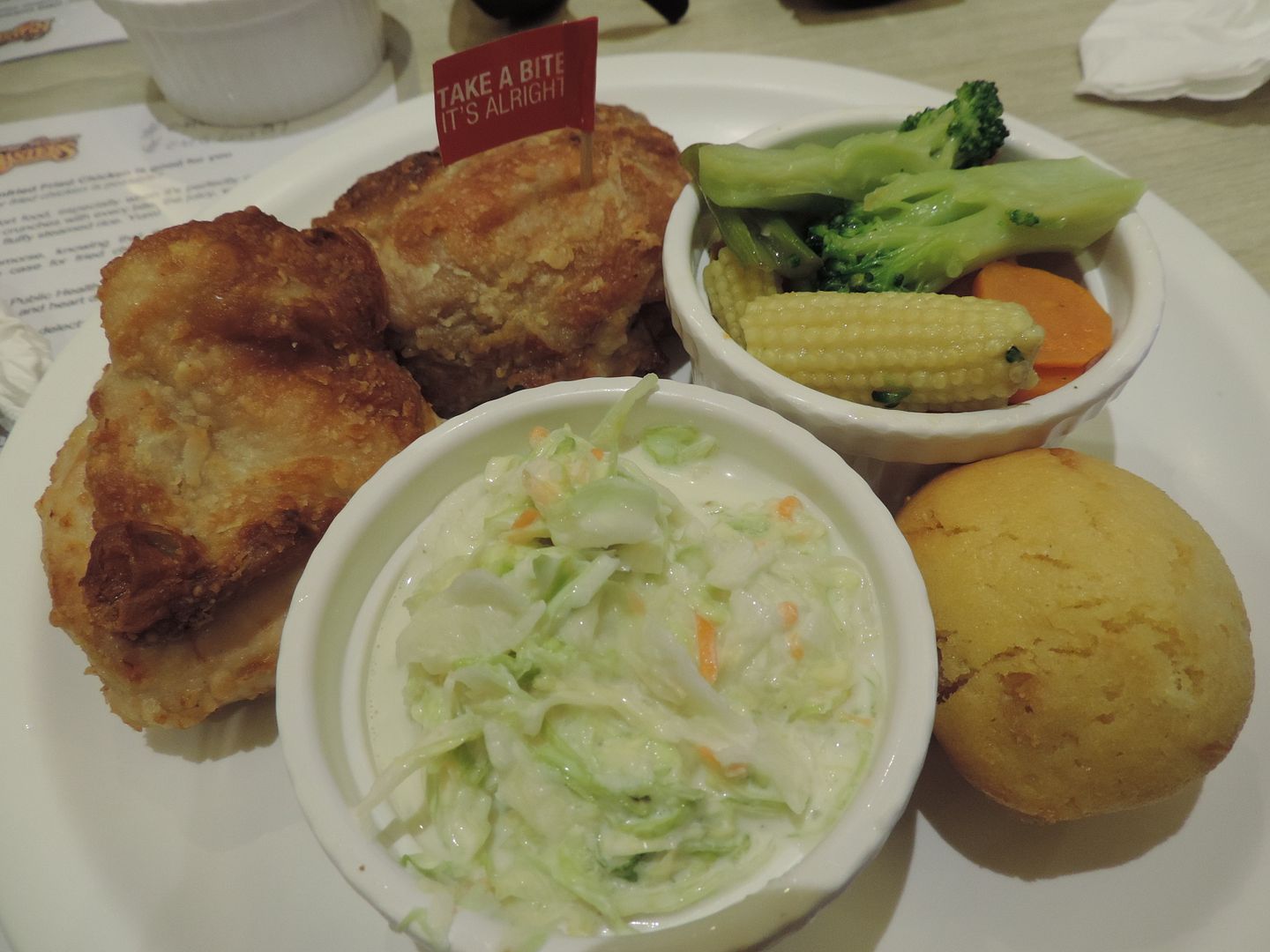 OMG Unfried Fried Chicken Plate
Kenny Rogers Roasters' OMG Unfried Fried Chicken
is an
o
utrageously
m
outhwatering,
g
uiltless treat for those who just can't give up fried chicken. This next-level fried chicken is crispier, juicier, more delicious, and best of all, it's not deep-fried.
8 pcs. OMG Unfried Fried Chicken Bucket, Php465.00
Here are the reasons why you should try the new OMG Unfried Fried Chicken:
1.
It has less oil because it's not fried.
The OMG Unfried Fried Chicken, unlike most fried chicken products in the market, is not deep-fried, but rather, cooked through circulating hot air. The result: crispy skin, juicier meat with the chicken's natural oil, and no excess oil used in the cooking process. It's pure fried chicken goodness minus the health-endangering oil and deep-frying!
2.
It's delicious but guilt-free.
Now we (healthbuffs or not) can all enjoy our favorite fried chicken without feeling guilty. It's pure flavor with every protein-packed bite, but with less oil and zero guilt!
3.
It's perfect for pairing with amazingly healthy sides.
This healthy unfried fried chicken goes well with any of Kenny Rogers' healthy, freshly cooked sides, like coleslaw, steamed vegetables and corn and carrots, among many others. Get 2 pcs. of OMG Unfried Fried Chicken with 2 regular side dishes, white rice, and a muffin for only Php215.00. That's one healthy, balanced meal for you!
4.
It's good for sharing.
Why not share the deliciously healthy love with the entire family, office, or barkada? The OMG Unfried Fried Chicken comes in a Group Meal with eight perfectly unfried fried chicken pieces, four muffins, four rice, four regular sides, gravy, and the customers' choice of drink for only P730.00. You can also get pure OMG Unfried Fried Chicken goodness (8 pieces) for only P465.00.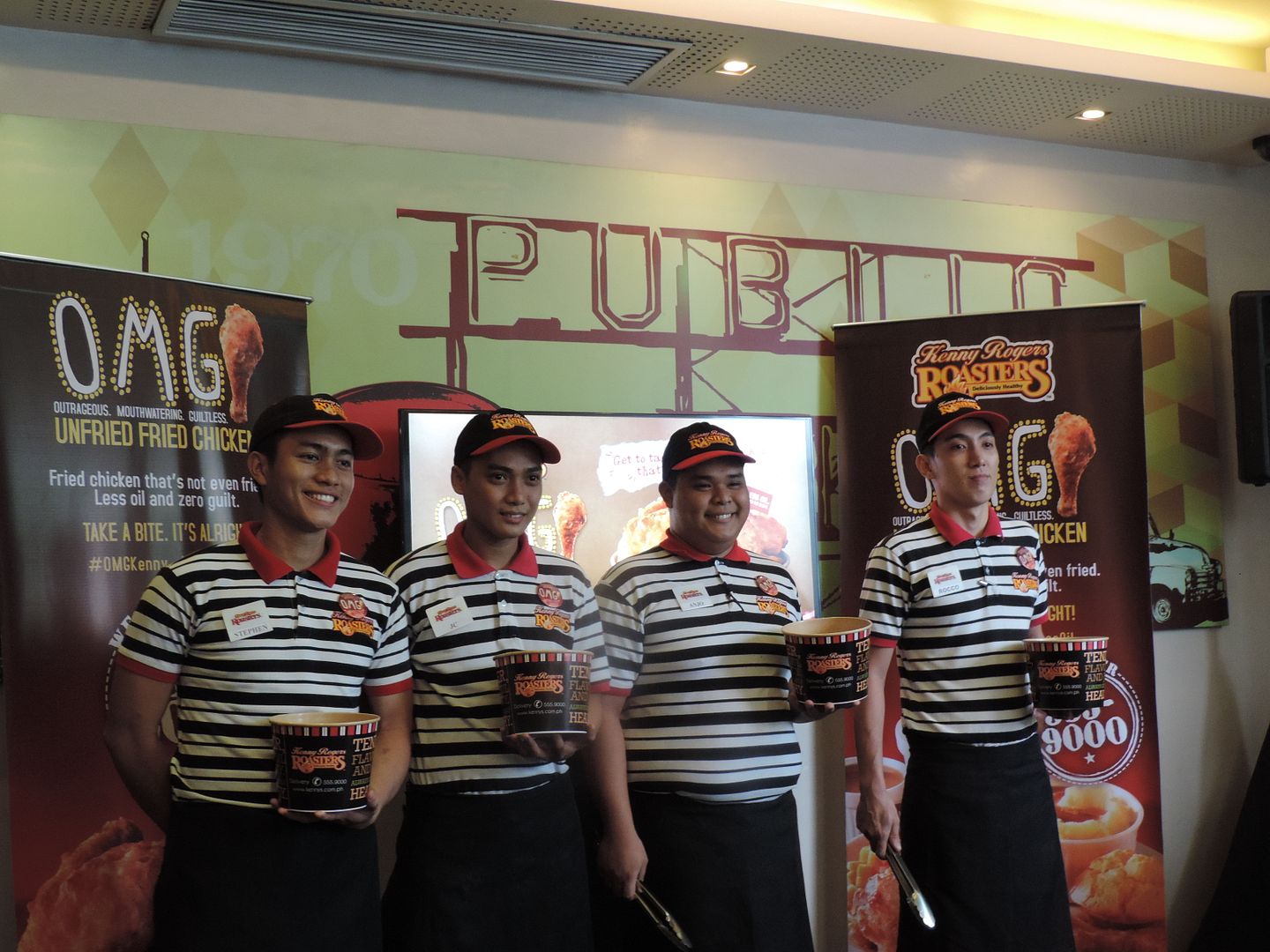 Let the eating begin!
The product launch was hosted by the beautiful and vibrant PBA courtside reporter and events host
Ms. Rizza Diaz
. Before the actual launch, the guests participated in the tongue-twister game for which they won Php1,000 Kenny Rogers' GCs each.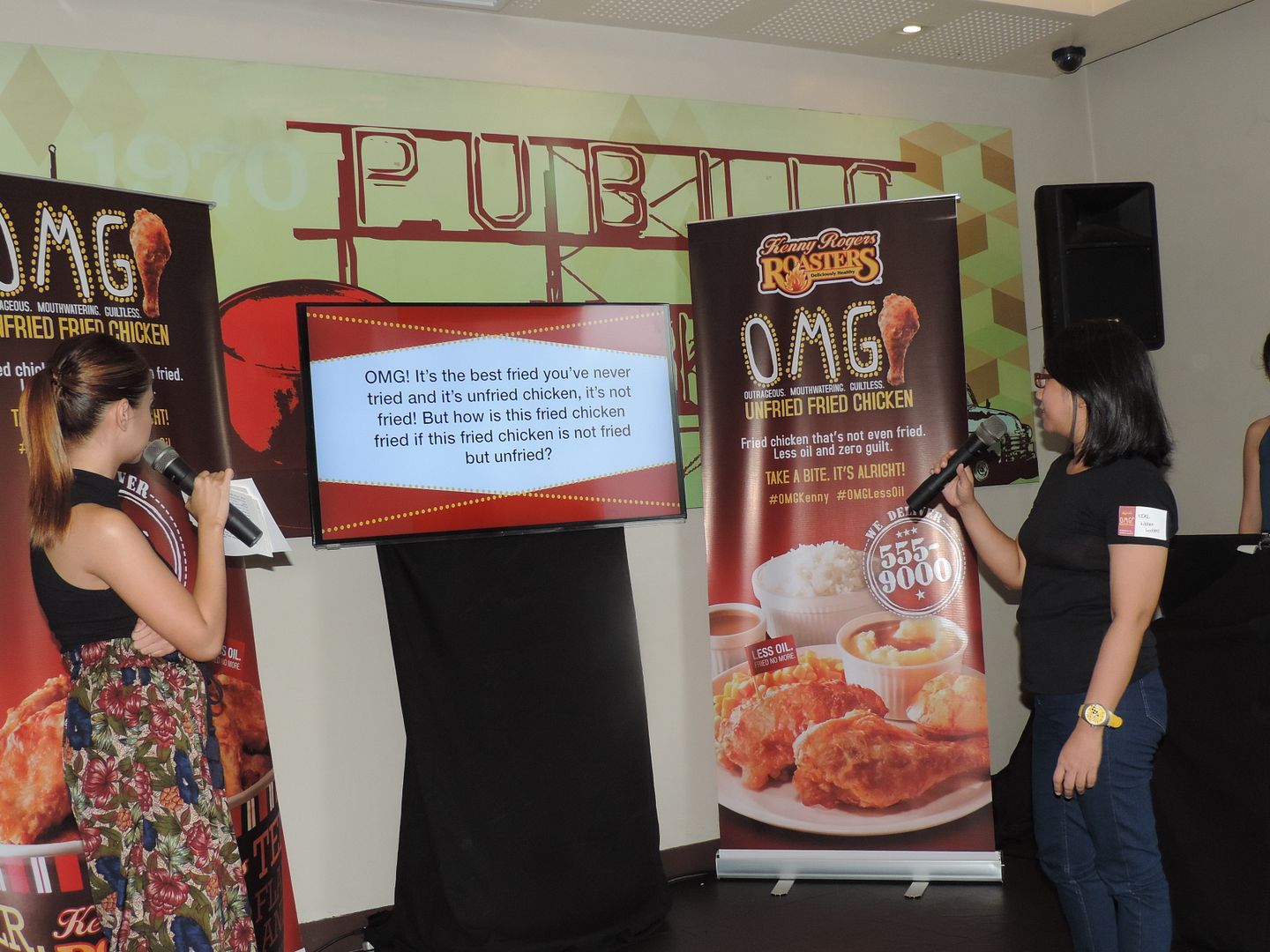 We also took part in a group game where each team was asked to prepare their own Kenny Rogers' Unfried Fried Chicken plate. Php1,500 GCs were given to each of the member of the winning team.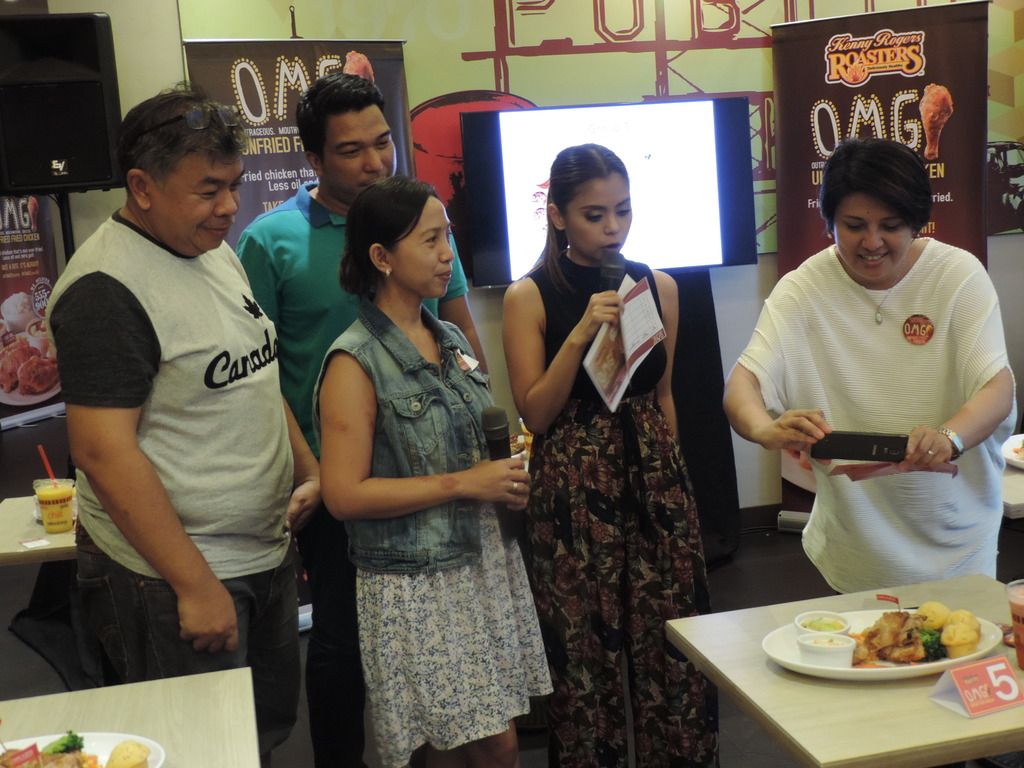 Visit Kenny Rogers Roasters' FB page, Instagram and website to know more about this new and exciting product offering.