Burgers were my comfort food when I was younger. The first burger that made a significant impact on me back then was, would you believe, Minute Burger. Oh, how I loved their soft burger buns with tasty beef patties and creamy, slightly sweet and yummy coleslaw! I could actually finish two burgers in one sitting! Lol! However, my love affair with burgers abruptly ended more than 10 years ago when I was diagnosed with high levels of bad cholesterol, which was totally genetic. I wanted to get healthier so I gave up eating burgers (and fries!). But since I started taking cholesterol-lowering drug, the guts to eat whatever whenever is stronger now than ever before, and because I'm protected, I can again enjoy the comfort food of my younger days. That's why when hubby suggested we try Zark's Burgers at SM Megamall last weekend, I didn't hesitate. Zark's Burgers is a no-frills place located on the Lower Ground Floor of SM Megamall. Simple wooden tables and red monoblock chairs are what's waiting for you inside this burger place.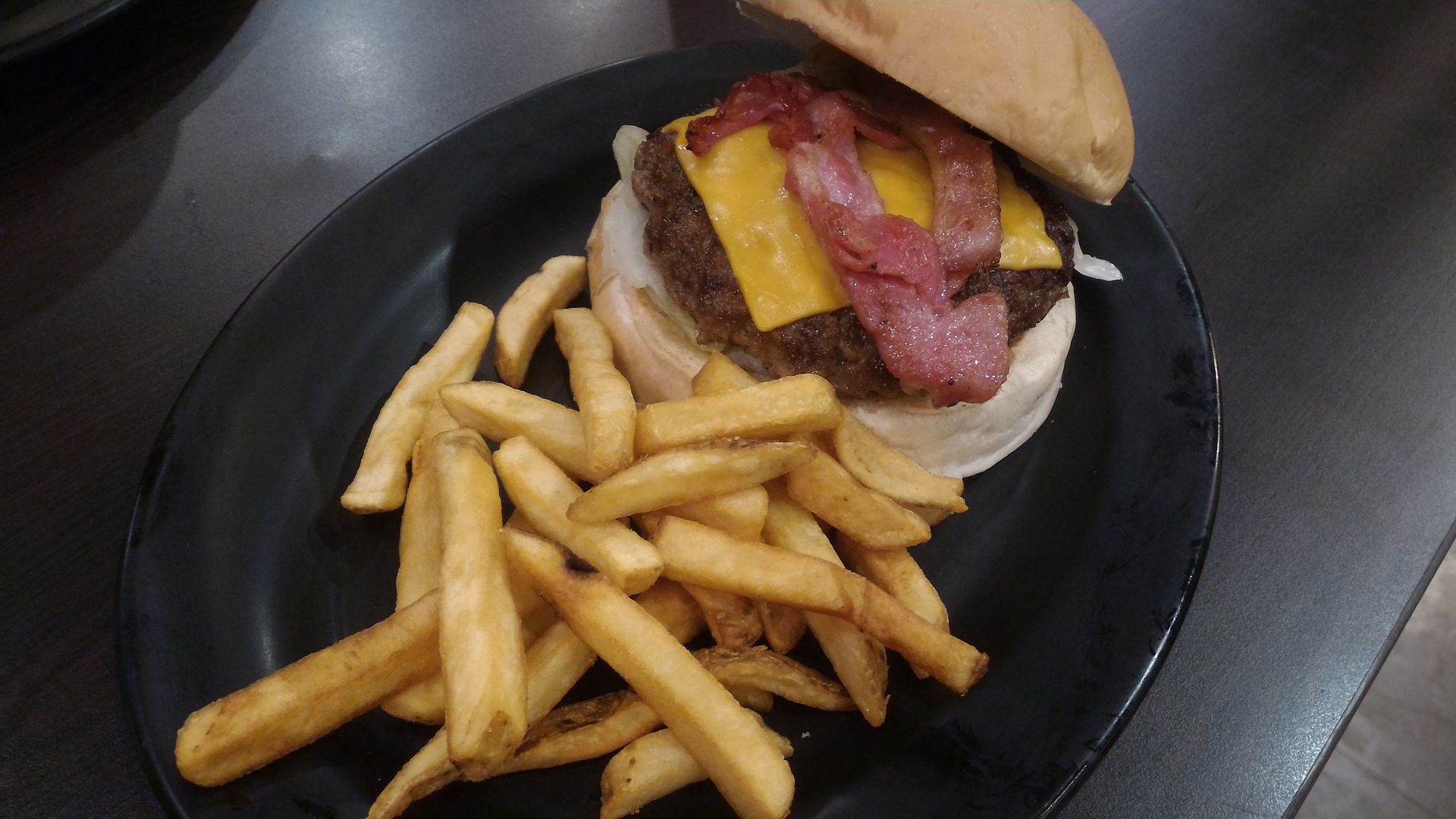 American All-Star Classic Bacon, Php140.00
Our 10-year-old son who loves cheese and bacon chose the
American All-Star Classic Bacon
, which is a classic bacon cheeseburger. He enjoyed the bacon, cheese and burger but gave all the veggies to me. He also finished all the fries but left half of the burger untouched because he was already full. There's really nothing fancy about the fries, but we all know that they go well with burgers.
Strikeout, Php120.00
I ordered
Strikeout
, a mushroom cheeseburger with lettuce and tomatoes. Like our son's burger, mine also belonged to the Minor League category (the smaller burgers), but it still looked big, right? Because our son got most of my fries, I almost ate all of this huge burger. Lol! I love that generous serving of mushrooms! (Note: For all Minor League burgers, you only have to add Php35 for fries and drinks and Php60 for fries and bottomless drinks.)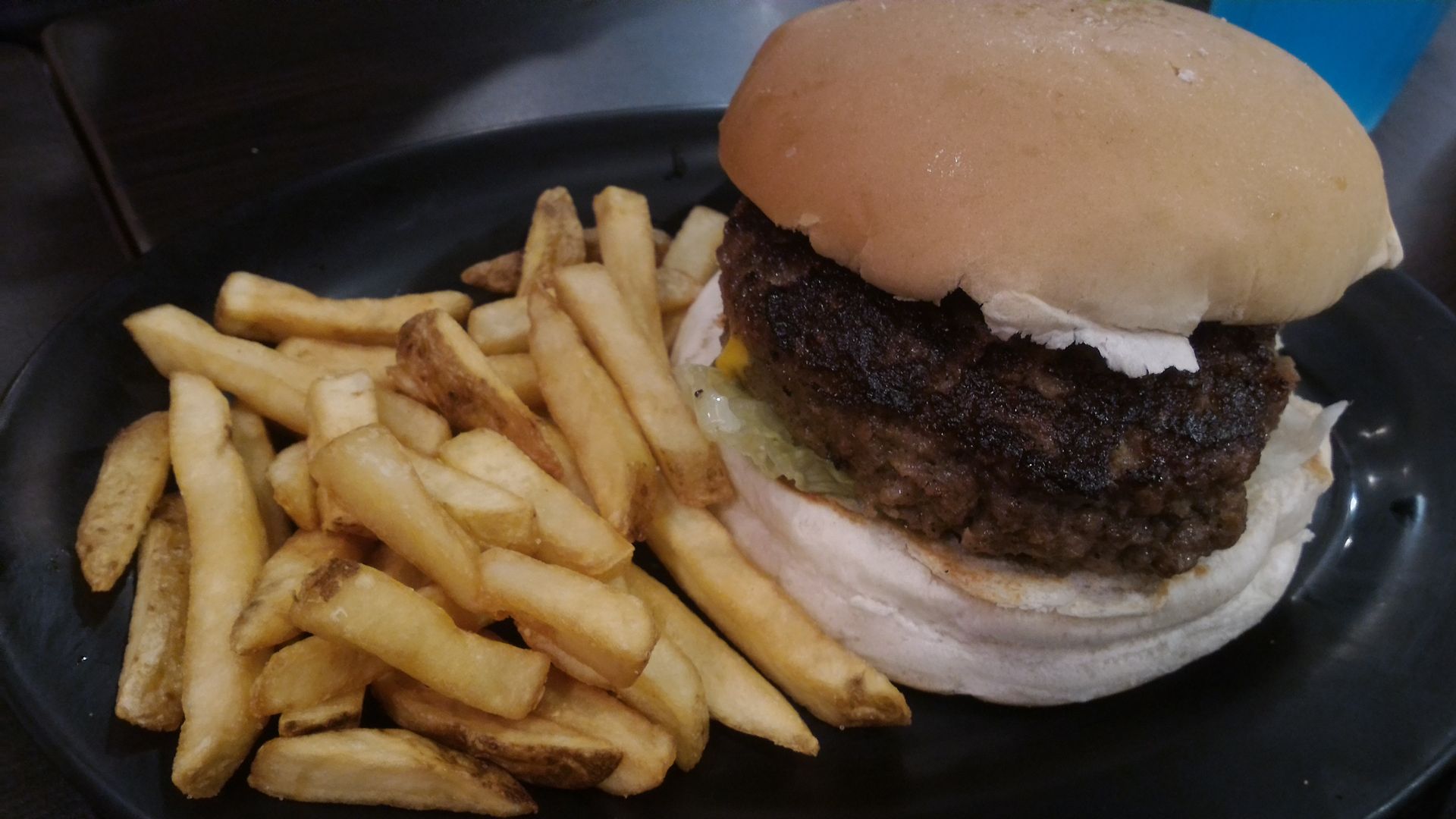 Jackhammer, Php210.00
Hubby's choice,
Jackhammer
, was the most expensive of the three burgers we ordered. It has half-pound patty with mozzarella, cheddar cheese, lettuce and tomatoes. This is a Major League burger, so it's quite humongous, but surprise, surprise! The hubby gobbled it all up, together with the fries. All Major League burgers come with free fries and drinks, but if you want bottomless drinks, then you'll have to pay Php35 more.
My verdict: Zark's Burgers will satisfy your burger cravings without hurting your wallet. With a little over Php100, you'll already get a filling and delightful burger that you can enjoy with fries and drinks. Their burgers are juicy, tender and rightly seasoned. You can even share your order with a friend if you're not a big eater.
Zark's Burgers
Lower Ground Floor, SM Megamall
Mandaluyong City