ArmyNavy, the home base of the finest, tastiest and juiciest burgers and burritos, is now on its 8th year of providing superb fast-casual dining experience to its battalion of food lovers.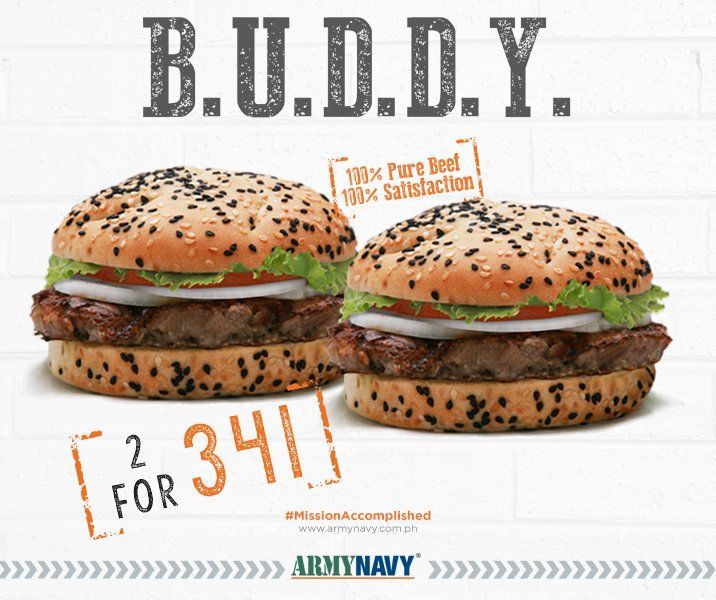 As part of its anniversary treat, ArmyNavy is having its
B.U.D.D.Y. Promo
valid until March 31, 2017. For a discounted price of Php 341, you and your comrade can feast on an amazing deal for two! Choose between a burger B.U.D.D.Y combo or a burrito B.U.D.D.Y combo.
You can never go wrong with ArmyNavy's quarter pounder burger with 100% natural beef patties, fresh crispy lettuce, sliced tomatoes and onions sandwiched in toasted sesame seed Kaiser Bun. The same is true of ArmyNavy's delicious burrito available in 7 flavorful variants.
Here's more! Customers who will avail the B.U.D.D.Y. Promo will receive a special treat on March 23, 2017, ArmyNavy's birthday. They will be getting two freshly brewed Libertea Iced Tea for free! This means they can relish the tasty flavors of the burgers or burritos while sipping its favorite companion, the Libertea Iced Tea. Cool, right?
ArmyNavy is also offering the bundle "Set 235" consisting either of its best-selling burger or its Chipotle Crispy Chicken Sandwich with a chosen siding and 12 oz. Libertea Iced Tea. This set is perfect for those who want to enjoy scrumptious food without spending too much.
"We take pride in serving high quality burgers and burrito in a fast-casual cool-military inspired setting. Through the years, we managed to live up to our mission to turn hungry into happy by serving freshly cooked food using only the freshest and high quality ingredients. Customers troop in at ArmyNavy to come back for nothing more but goodness," said Roy Quejada, Chief Operating Officer.
Spend an awesome time with your buddy over delightful food in ArmyNavy. Head to the nearest branch and join in the celebration of another year of ArmyNavy's victory! Get in the loop by visiting www.armynavy.com.ph or by liking ArmyNavy Burger + Burrito Philippines on Facebook.