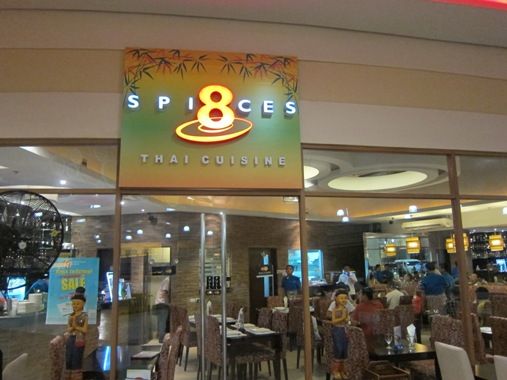 Three weekends ago, hubby and I got the chance to have a dinner date, just the two of us. That's because my son had a special playmate at home that he didn't really mind if Daddy and Mommy were out of sight. We took that opportunity to try 8 Spices Thai Cuisine at The Veranda of Robinsons Galleria.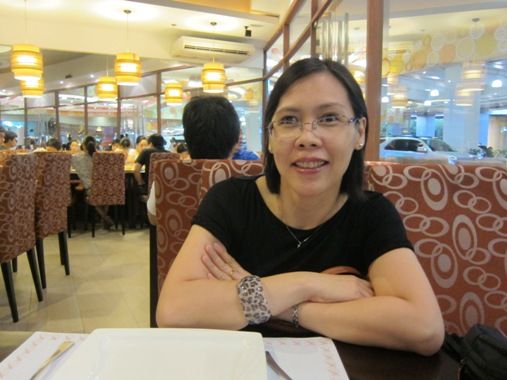 That's me eagerly awaiting our food!
We had the following: Pomelo Salad, Bagoong Fried Rice and Grilled Pork Ribs with Honey Served with Spicy Garlic Sauce. For our drinks, we ordered Buklang and Frappe.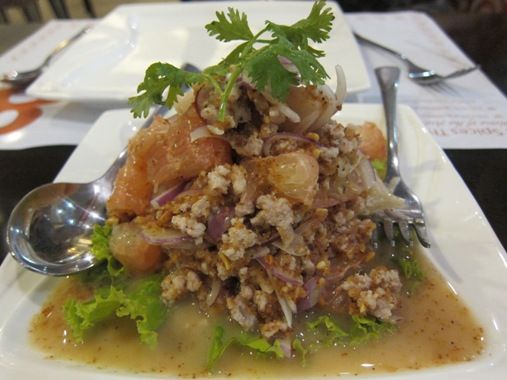 Pomelo Salad, Php305.00
This is a combination of pomelo, onion, ground meat and
latik
(fried coconut milk solids). It had a unique taste to it, but I didn't really like it. I would love to try other salads on their menu next time.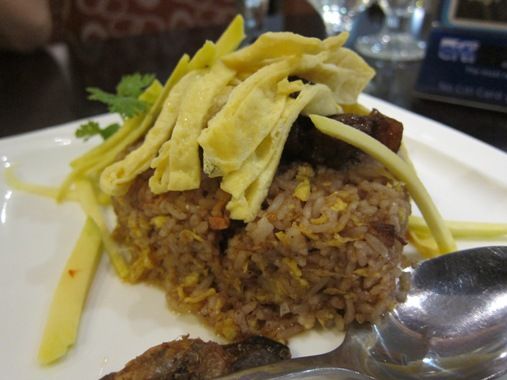 Bagoong Fried Rice (Single), Php185.00
This one's a must-try! It wasn't too salty; the taste was just right. I also loved that it was served piping hot! The green mango strips and pork bits on top nicely complemented this delicious fried rice.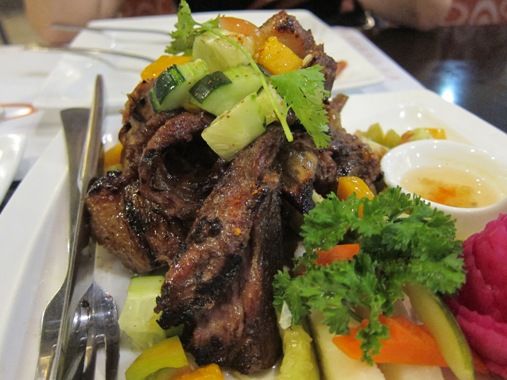 Grilled Pork Ribs with Honey Served with Spicy Garlic Sauce, Php325.00
The meat was tender, but this pork dish was too sweet for my taste. It's a good thing that it came with a vinegar dip, which tapered off some of its sweetness.
Buklang, Php105.00 and Frappe, Php120.00
"Buklang" is short for "Buko-Langka Shake."
Buko
is coconut and
langka
is jackfruit in English. My first sip was quite delightful. I loved the combination of these two fruits in my drink. I actually felt like I was having desserts, too, as I was finishing my glass. However, there was just too much sugar in this fruit concoction. I would still love to order this next time, but with less sugar, please! Hubby enjoyed his Frappe, by the way.
We would love to try the other house specialties of 8 Spices Thai Cuisine next time.
8 Spices Thai Cuisine
2nd Level, The Veranda, Robinsons Galleria
Quezon City
Telephone No.: (02) 571-3361