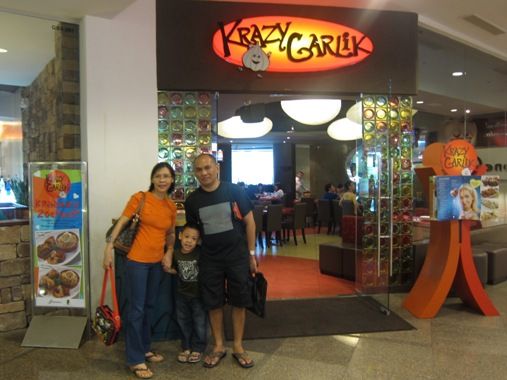 Somebody gave me Php2,000.00 worth of Krazy Garlik gift certificates a month ago, and we were finally able to use them last June 4, 2011. Krazy Garlik is located on the second floor of Greenbelt 5 in Makati.
As the name suggests, all of their dishes have garlic in them. That's what the manager of this restaurant said. She was one of those attending to the needs of the customers at the time we visited Krazy Garlik. This place offers Mediterranean, Asian and Filipino cuisines.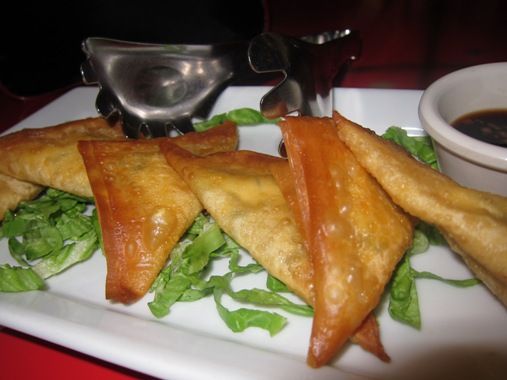 Spinach and Cream Cheese, Php225.00
Deep-fried spinach and cream cheese wantons on a bed of shredded romaine lettuce served with their homemade soy and vinegar sauce
What made us order this was the cream cheese. All three of us love cheese; that's why. This is a good appetizer and is fine even without the soy and vinegar sauce.
Garlicky Crispy Pata, Php695.00
Deep-fried pork leg topped with fried garlic in olive oil
The pork skin was so crispy, and the meat was tender, flavorful and really garlicky. We loved this! We took home what's left of it and had it for dinner. What I really liked about this was the meat was tender hours after we ordered it.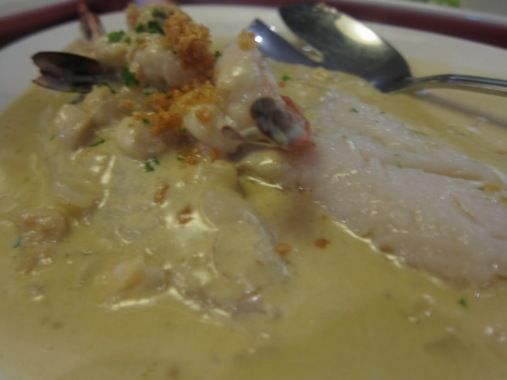 White Fish Fillet with Creamy Seafood, Php545.00
Pan-fried cream dory topped with creamy shrimps and scallop sauce
There's really nothing special about this dish, but I enjoyed the shrimps. Hubby liked it, though.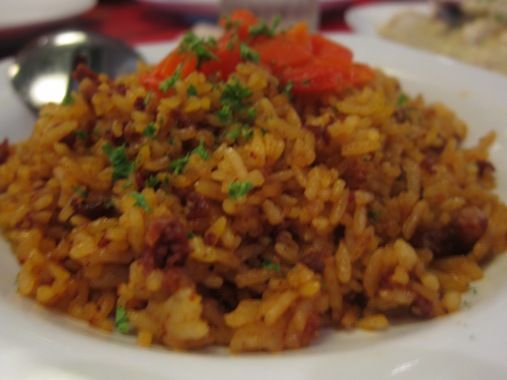 Chorizo Fried Rice (Regular), Php210.00
Spanish chorizo and garlic fried rice
We avoided ordering their Hara-Kiri Fried Rice because the food attendant said it's too spicy, but Chorizo Fried Rice was also spicy. It's not ideal to order this when you have kids with you.
Spiced Water, Jabba Baby Wockee and Drink Me, Php180.00 each
Spiced Water is pureed strawberries and watermelon.
Jabba Baby Wockee is pureed strawberries and soda.
Drink Me is pureed strawberries, ripe mango and banana.
They call these drinks their health quenchers, and they're all must-try's. I would have enjoyed the Spiced Water better if it was served without bits of blended watermelon seeds.
It was 1pm when we arrived at Krazy Garlik, and by the time we received our orders, this restaurant was almost full. One thing we liked about this place is that the manager personally welcomed the guests and made sure they were comfortable and enjoying their stay at Krazy Garlik. She even gave my son free ice cream after he's done eating.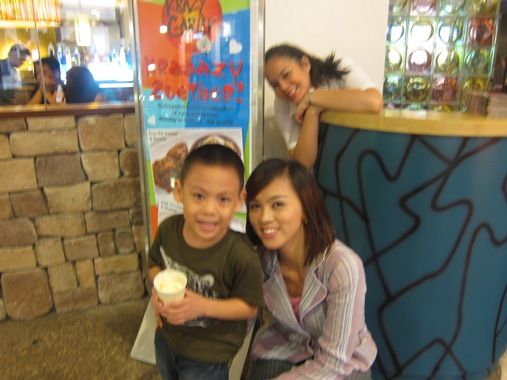 Krazy Garlik's manager with my son
Overall, Krazy Garlik is a really nice place to enjoy great food with family and friends. Their prices are really expensive, however, so it might take a while before we can visit this place again.
Krazy Garlik
2/F, Greenbelt 5
Ayala Center, Makati City
Telephone No.: (02) 501-3752