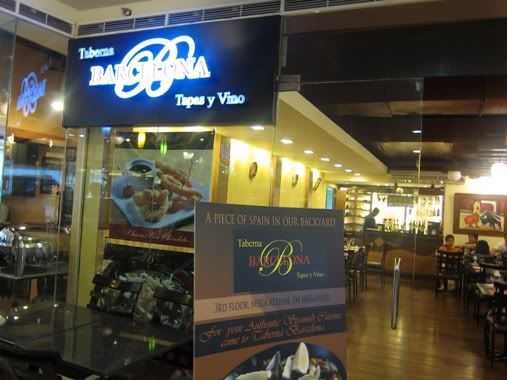 Two Saturdays ago, we found ourselves having lunch at a Spanish restaurant called
Taberna Barcelona Tapas y Vino
located at SM Megamall Atrium, just across Amici. "
Tapas
" in Spanish means "appetizers" or "snacks," while "vino" is the Spanish word for "wine." The name of the restaurant, therefore, means a place where appetizers/snacks and wine are served. However, snacks and wine are not the only things they serve in this restaurant.
This restaurant has a refined and classy interior, which I found quite intimidating. I had no idea what to order, so I left that task to my husband. While waiting for our orders, we were served a small basket of bread and a small cup of chopped tomatoes, compliments of the house. I skipped this.
We had the following: Mejillones Gratinados, Paella Valenciana and Callos ala Madrileño.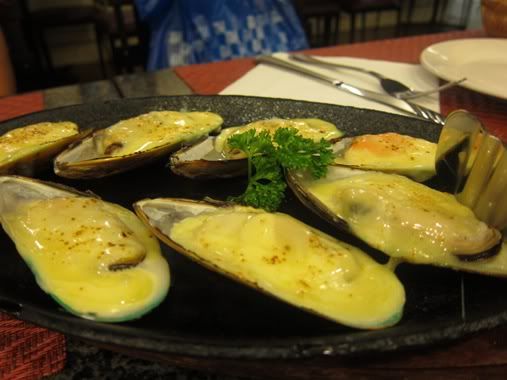 Mejillones Gratinados, Php280.00
Mejillones Gratinados
are mussels baked with Manchego cheese crust. This was a nice appetizer. We liked it very much, but we were craving for more. Seven pieces of mussels just weren't enough for 3 adults and one preschooler, although my son only wanted the cheese.
Paella Valenciana, Php800.00
This
Paella Valenciana
with assorted meat and seafood was a bit expensive, but it was worth it! As you can obviously see in the picture, they didn't scrimp on meat and vegetables here. Even my son loved this paella, although he only wanted ham with his rice.
Callos ala Madrileño, Php320.00
Callos ala Madrileño
is beef tripe stewed in rich tomato and paprika sauce. The beef tripe was tender, and the taste of the callos was okay.
We went home full and satisfied.