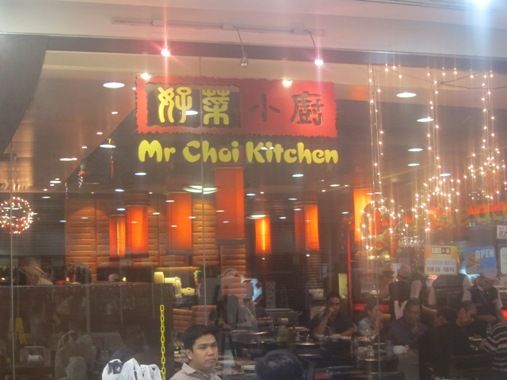 Our 5-year-old son deserved a treat for performing well (both in the invocation and in their song and dance numbers) in their
school Christmas production
held at the Tektite Auditorium of the Philippine Stock Exchange last December 10, 2011.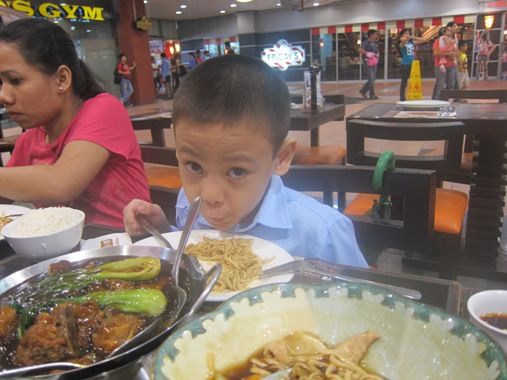 It was lunch time when the show ended, so we decided to have lunch at Mr. Choi Kitchen at Robinsons Galleria.
Hot Prawn Salad, Php340.00
We had Hot Prawn Salad at Mr. Choi Kitchen when we celebrated
my birthday
here last January, and this was one of the things we enjoyed, so we made a repeat order.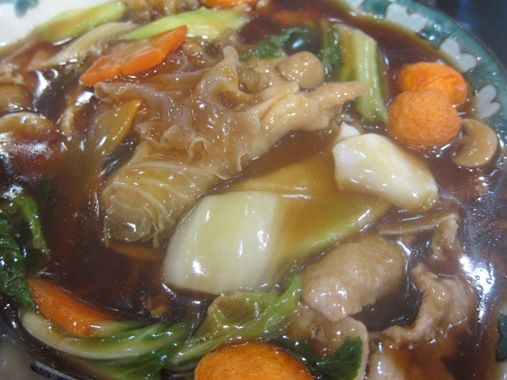 Birthday Noodle, Php210.00
The noodles were underneath all of those wonderful toppings. We hadn't mixed the noodles yet with the sauce and toppings because I was in a hurry to take a picture before everyone starts devouring this. The Birthday Noodle that we had the first time we visited Mr. Choi Kitchen tasted so much better than this one. This needed a little more salt.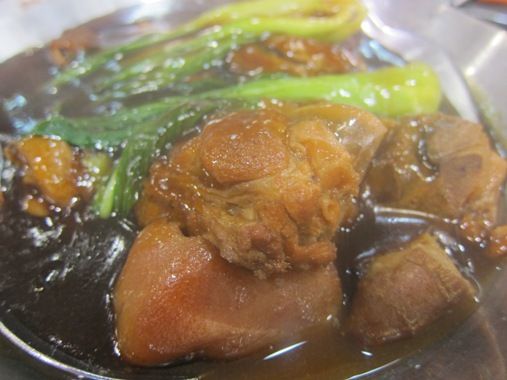 Braised Patatim, Php265.00
We liked this! The meat was tender and seasoned just right.
Lychee Shake, Php75.00
We ordered Coke Zero for hubby, iced tea for Justin and his
yaya
and this Lychee Shake for me. Justin's
lolo
settled for the house iced tea. I opted not to add syrup to my fruit shake anymore because the Lychee Shake on its own was already sweet.
It was no surprise that our plates were swept clean in no time because we were all so hungry when we arrived at Mr. Choi Kitchen.
Mr. Choi Kitchen
2nd Level, East Wing, Robinsons Galleria
Quezon City
(02) 638-4523