I like the idea of cooking my own food and eating my food hot! This is what prompted me two Saturdays ago to suggest to hubby that we should have dinner at Sizzlin' Pepper Steak at Robinsons Galleria. We've eaten there before, and we enjoyed our food, but I never got to blog about it, so all the more reason to eat there again.
Sizzlin' Pepper Steak at Robinsons Galleria
For those who haven't eaten at Sizzlin' Pepper Steak before, you have to cook the meat in their "expediently fast patented hot plate system." When the meat is done, you mix it with rice and sauce.
Moove & Stop Signs!
These Moove and Stop signs piqued the curiosity of the little boy. He was having a great time flipping these cards much to the confusion of the restaurant staff. LOL! "Moove" means you need something from the staff and "Stop" means you need nothing from them.
Gyuniku Beef Pepper Rice with Iced Tea (single-serve), Php250.00
Thinly sliced beef marinated in yakiniku sauce and drizzled with Japanese mayonnaise. Served with rice, egg yolk, roasted sesame seeds and don buri sauce
This was hubby's order. We rarely cook beef dishes at home because it is high in cholesterol, so hubby orders beef dishes in restaurants every chance he gets. He liked this! He said the beef was tender and flavorful.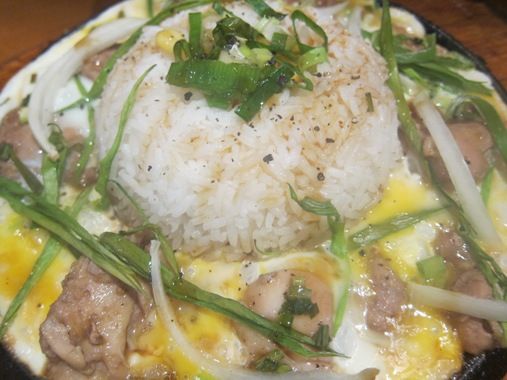 Oyako Pepper Rice with Iced Tea (single-serve), Php220.00
Japanese-inspired dish of cubed chicken stewed in special sauce and served with scrambled egg and Pepper Rice
For a change, I ordered this instead of the Chicken Pepper Rice. The plate looked too busy, but that didn't stop me from devouring this sizzling goodness. The generous serving of chicken chunks almost made me order extra pepper rice. LOL!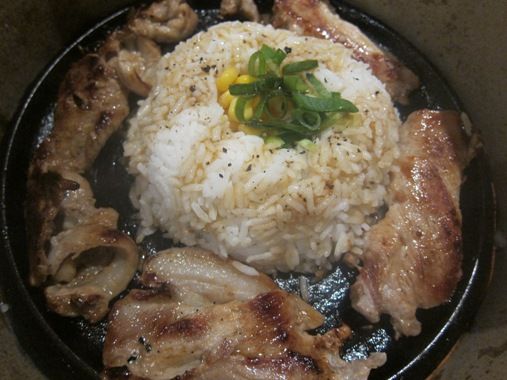 Pork Pepper Rice with Iced Tea (single-serve), Php197.00
Thinly sliced pork marinated in a special marinade, served hot with Sizzling Pepper Rice
This was for Justin's yaya. I'm sure it tasted good, too, because she finished her food in no time.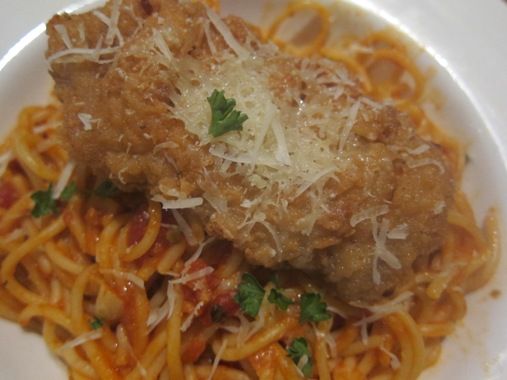 Chicken Parmiggiana, Php205.00
Breaded deep-fried chicken breast with melted cheese on spaghetti noodles and tossed in a home-made tomato sauce
Because the little boy likes pasta dishes, we ordered this for him. He ate a little of the pasta and none of the chicken. That's because he doesn't like seeing real tomatoes in his pasta. LOL!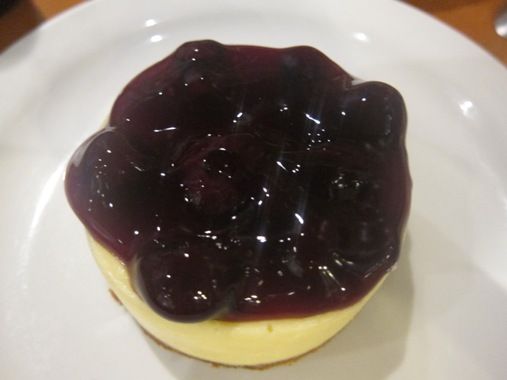 Blueberry Cheesecake, Php180.00
Creamy cheesecake topped with blueberries
This tasted as good as it looked! You must try this!
Sizzlin' Pepper Steak
4th Level, Robinsons Galleria
Quezon City
Telephone No.: (02) 633-4749