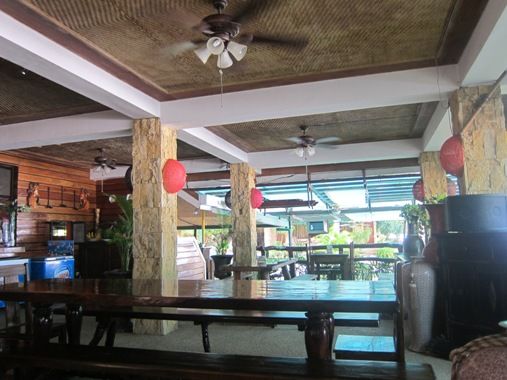 We spent three days and two nights (June 2 to June 5, 2012) at
Dumaluan Beach Resort
in Panglao Island, Bohol. We had our lunch, dinner and breakfast at the resort's
Kan-anan Restaurant & Bar
.
LUNCH (FIRST DAY)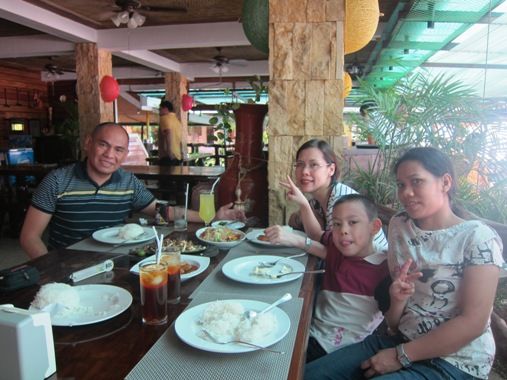 Our first lunch there was quite delightful, consisting of Sizzling Sisig, Pansit ni Yoyong and Pescadillo.
Sizzling Sisig, Php180.00
My husband, a certified sisig lover, gave this Sizzling Sisig the thumbs up because the pork meat was tender and flavorful. Sizzling Sisig is "sauteed grilled chopped pork face in onions and garlic with liver and chillies topped with egg."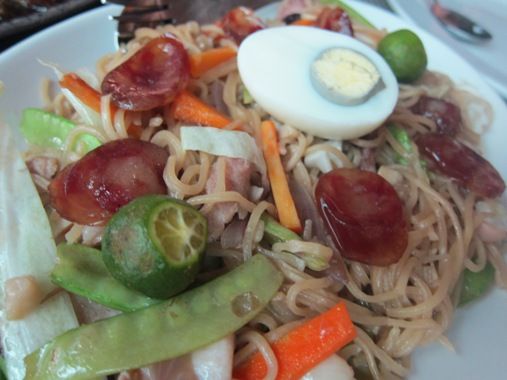 Pansit ni Yoyong, Php240.00
The name of this pancit canton is quite interesting, and that prompted us to try it. It turned out we made the right choice because this was delicious. It's not too dry and not too saucy, and it had generous servings of meat and seafood, which made it even more flavorful. It's topped with hard-boiled egg, calamansi and toasted garlic, too.
Pescadillo, Php210.00
I loved this! The tanigue chunks were fresh and succulent. Pescadillo is "marinated fish fillet chunks sautéed in olive oil, white wine and soy sauce."
We really enjoyed our lunch at Kan-an Bar & Restaurant. Now, here's what we had for dinner.
DINNER (FIRST DAY)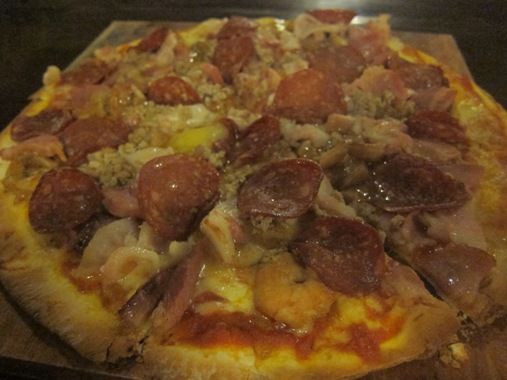 "Reichy Rich" Supreme Pizza, Php360.00
This is thin crust round pizza with mozzarella, seafood and meat. According to the waiting staff, this is one of their bestsellers, so we tried it. This pizza is so loaded, but we were so overwhelmed by all the toppings that we actually got tired of it after just one slice. We should have ordered their Salmon Pizza instead.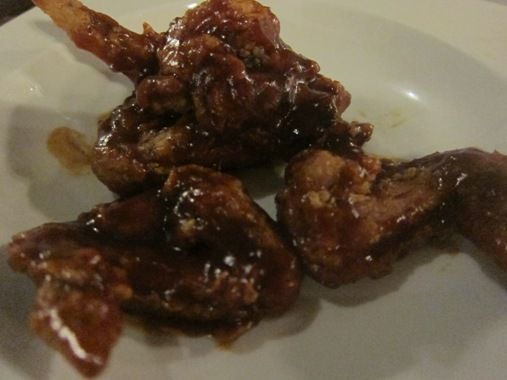 Buffalo Chicken, Php190.00
These are "buffalo glazed crispy chicken wings, served with cream garlic." There's nothing special about this chicken dish, but hubby liked it.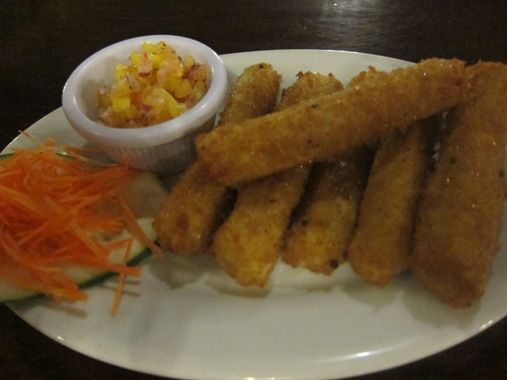 Mozzarella Sticks, Php180.00
We ordered these for the little boy. He ate only two of these, and we ate the rest. I understood why my son did not like these. The Mozzarella Sticks were a bit bland and needed more seasoning. These Mozzarella Sticks were served with mango salsa, but we preferred to dip them in ketchup.
BREAKFAST (THIRD DAY)
Buffet breakfast
Kan-anan Restaurant & Bar's breakfast buffet was simple, consisting of three dishes only. Here's what I have on my plate on our last day at Dumaluan Beach Resort: fried rice with hard-boiled egg, corned beef with potatoes, and buttered vegetables. The fried rice, egg and veggies were okay, but the corned beef was a bit salty.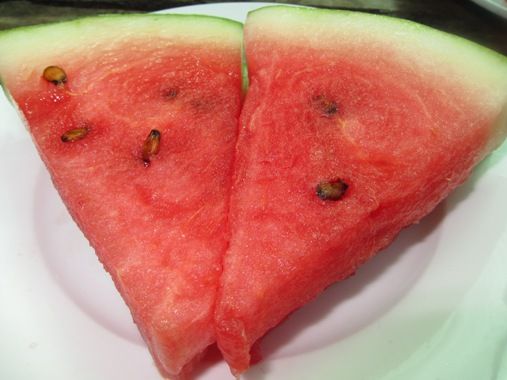 Dessert
I also had watermelon slices, which were quite okay.
To sum it up, we had a delicious lunch, a filling but not fully satisfying dinner, and a passable breakfast at Kan-anan Restaurant & Bar.
I would also like to mention that the staff of Kan-an Restaurant & Bar and Dumaluan Beach Resort in general were all very courteous and helpful, which made our stay there a very pleasant one.
Kan-anan Restaurant & Bar
Dumaluan Beach Resort
Sapa, Bolod
Panglao, Bohol
Email: resort@dumaluanbeach.com
Landline: 038 502-9092
Fax No.: 038-502-9081
Mobile No.: +639178834888