We went to Quezon Memorial Circle last Sunday upon the insistence of our 6-year-old son. That's because he wanted so much to ride a bike. He had his first bike ride in Baguio last month, and he truly enjoyed it; we told him there are similar bike rentals in Manila, too. He and his Dad went to PICC last Saturday to look for bikes for rent, but they didn't find any, so we brought him to Quezon Memorial Circle the following day to grant our little boy's wish.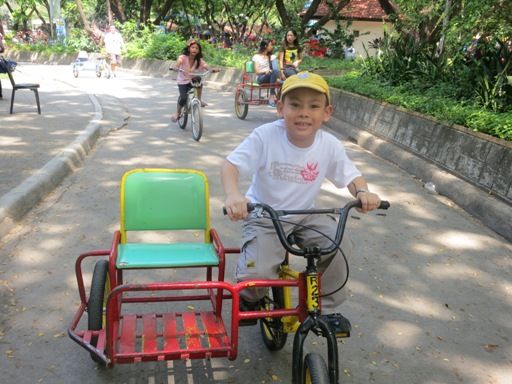 We spotted a restaurant near the bike lane, and that's where we had our afternoon snacks. Because it was really hot, hubby and I ordered something cold. We also bought
Goto
(congee with beef tripe) that my son and I shared.
Halo-Halo Special, Php68.00
This was my order. Php68.00 was quite affordable for a Halo-Halo Special that had the following ingredients:
ube halaya
(purple yam jam),
leche flan
(caramel custard), sweetened
langka
(jackfruit), melon, gelatin, red and white beans, sweetened
saba
(banana plantain),
sago
(tapioca pearls), cherry and candy sprinkles. My first impression was that it looked too fancy. They could have done away with the candy sprinkles if adults are their target audience. There was nothing extraordinary about the taste, too. I actually found it a bit too sweet, which is why I wasn't able to finish everything.
Saba con Hielo, Php48.00
Hubby was excited to try this Saba con Hielo, but his excitement was soon replaced with disappointment when he discovered that the sweetened
saba
slices were a bit hard to chew. He would have preferred them to be soft and ripe, but what he got was the opposite of what he wanted.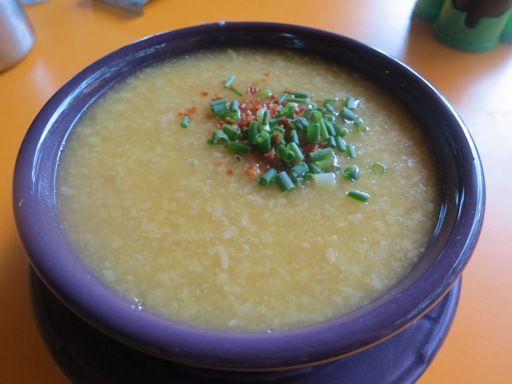 Goto, Php55.00
Finally, we found something we liked. First, this
Goto
was served hot. Next, it was seasoned just right. Third, this Goto had a generous serving of ox tripe that was really tender. All three of us enjoyed it!
We would like to try the other restaurants inside Quezon Memorial Circle next time.
Ces' Garden Cuisine
Quezon Memorial Circle
Quezon City