We were at SM Mall of Asia (MOA) last Saturday; I was planning to use my gift certificate at The Creamery, but on that particular day, this restaurant and ice cream bar was only serving customers with tickets to the 2013 Philippine International Pyromusical Competition. We ended up having dinner at Joey Pepperoni Pizzeria instead. We ordered Chicken Parmigiana and Quattro Formaggi.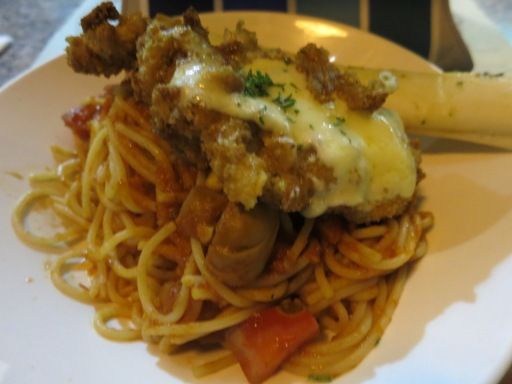 Chicken Parmigiana, Php250.00
This is spaghetti with pomodoro sauce topped with deep-fried chicken thigh fillet and melted mozzarella cheese. It's tangy and tasty. Our little boy loved it! The adults liked it, too!
Quattro Formaggi (R12), Php380.00
Quattro Formaggi means "four-cheese pizza"; it has mozzarella, cheddar, parmesan and white cheese. It was hot, soft, and cheesy. It's a little bland on its own, but it tasted so much better with hot sauce. Our little boy enjoyed this also.
Joey Pepperoni Pizzeria
Southwing, Seaside Blvd.
SM Mall of Asia
Pasay City
Telephone No.: (02) 556-6045