We went out last Sunday even if we already watched a movie the day before simply because we had nothing better to do. The little boy was also itching to play at Timezone. After using up his Php100 game card, we headed straight to Mesa Filipino Moderne to have an early dinner. I celebrated my birthday here two years ago, and we didn't forget its cozy, relaxing ambiance and sumptuous foods.
We would have wanted to try their Drunken Ostrich, but according to the waiting staff, they weren't serving ostrich dishes on that day because the price of ostrich meat has gone up. We settled for Pinatayong Manok and Binagoongang Baboy ni Kaka instead.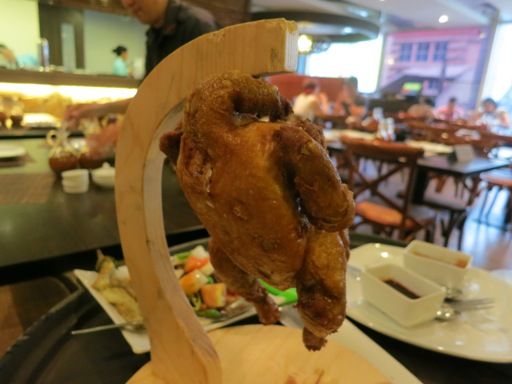 Pinatayong Manok, Php415.00
The chicken is literally standing, which is why it's called "Pinatayong Manok." It's a "standing" crispy whole chicken carved right at your table. I liked the name and the taste, but I didn't notice the crispiness. I also enjoyed the slightly sweet sauce that enhanced this already tasty dish.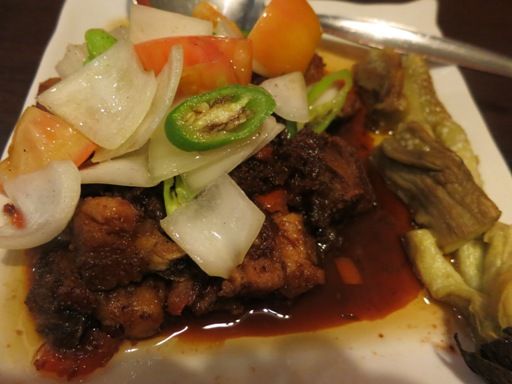 Binagoongang Baboy ni Kaka, Php225.00
This is pan-fried pork belly sautéed in
bagoong
(shrimp paste) with grilled eggplant. This was delicious, too! Because it's fried, there's a crunch in every bite of pork meat, which made it fun to eat. The sweet and salty balance of the shrimp paste made this pork dish really palatable, too. I also enjoyed the veggies (grilled eggplant and fresh tomatoes, onions and chili peppers).
It was a satisfying dinner! I'll never get tired of going back here because the place is nice, the waiting staff are courteous and friendly, and the food is delicious.
Mesa Filipino Moderne
Level 2, Mega Atrium, SM Megamall
Mandaluyong City
Customer Care Hotline: 0917-852MESA
Website: www.mesa.net.ph