I've been eyeing this ice cream stall at SM Megamall for a long time now. I was intrigued by those small ice cream cones on a palette that kids are going gaga over. We finally had the chance to try them two Saturdays ago when our little boy requested for some playtime at Timezone. We bought 5 palettes of Thumbs Up Ice Cream for only Php145.00; each palette costs Php29.00.
Thumbs Up Ice Cream, Php29.00 per palette
The palette functions as an ice cream cone holder, a multi-cone holder to be exact. Each palette holds five small ice cream cones. You can have five different ice cream flavors in one order or just choose your all-time favorite ice cream flavor. They have White Chocolate, Cheesecake, Chocolate, Ube, Mocha, Cookies & Cream, Vanilla Cookie Dough, Double Dutch, Cheese, Avocado, Bubble Gum, Chocolate Mint, Coffee Fudge, Rainbow Sprinkles and Strawberry.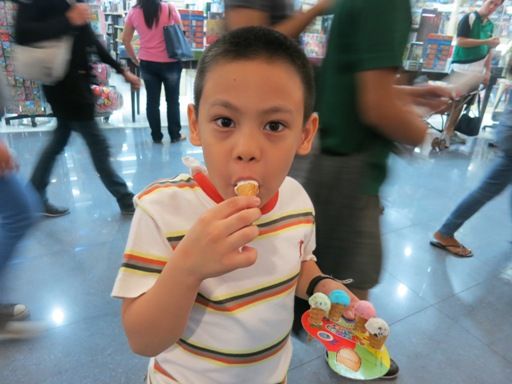 What I liked about Thumbs Up Ice Cream is that I could control the sweets intake of my son. Having five different ice cream flavors at one time gave him the feeling that he's eaten a lot so he won't have to ask for another one. The adults (that's us!) enjoyed their ice cream, too. In particular, I liked the Chocolate Mint flavor.
Thumbs Up Ice Cream
Upper Ground Level, Buiding A
SM Megamall (near the escalator)