After the little boy and I were done grocery shopping, we met hubby at the ground floor of Robinsons Galleria. Asked by his Dad if we like to eat, the little boy was quick to respond, and he was even the one who chose Cajun Red Rock. We ordered Tony's Favorite Chops and our favorite Creole Chicken Pasta.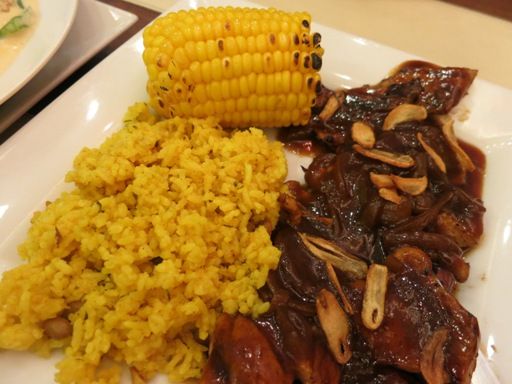 Tony's Favorite Chops, Php310.00
Tony's Favorite Chops
are grilled pork chops with Jack Daniel's barbecue sauce topped with roasted garlic. For our side dishes, we chose saffron rice and grilled corn coblets. Everything was okay, except for the pork chops; they were not served hot. We informed our server about this before we left. She apologized for it but assured us that the pork chops were freshly cooked.
Creole Chicken Pasta, Php250.00
Cajun's signature dish, the
Creole Chicken Pasta
, was simply delicious! This is spaghetti with special cream sauce and special Creole flavors served with crispy chicken strips. We all liked this very much! This would be a more filling dish, though, if there were more pasta than toppings.
We still like Cajun Red Rock despite the cold pork chops, but we'll order something different from Cajun grill next time.
Cajun Red Rock
4th Level, Robinsons Galleria
Quezon City