Fiesta Bahia, the Philippines' first food tourism market, will be officially launched at the SM Mall of Asia (MOA) tomorrow, July 12, 2013 at 6:00pm. Fiesta Bahia is the latest brainchild of the Mercato Centrale Group, which has been behind some of the top weekend lifestyle food markets like Mezza Norte, Levante and Cocina Centrale. Fiesta Bahia will offer a variety of mouth-watering dishes from all over the Philippines to welcome foreign guests to one of Manila's top tourist destinations.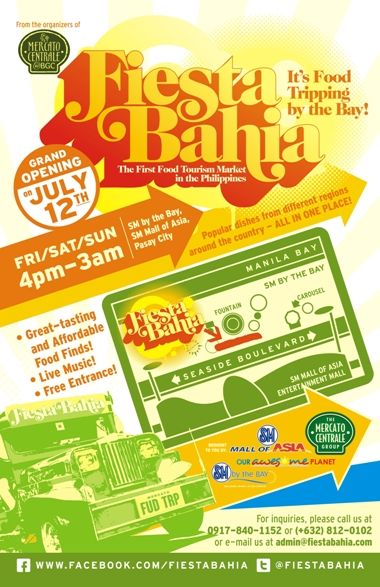 In an interview with Today Show food blog, Bizarre Foods host Andrew Zimmen predicted that Filipino will be the next big thing. Chef and culinary expert Anthony Bourdain of "No Reservations" also shared in his blog on the Travel Channel website that he enjoyed sisig and Cebu lechon during his visit to the country, said Anton Diaz, co-founder of Mercato Centrale and the popular food and travel blogger behind www.OurAwesomePlanet.com.
"As our tourism industry continues to boom, I'm sure many foreigners, balikbayans and even locals would like to sample the richness of our Filipino cuisine. That's what Fiesta Bahia is all about – a food market where you can enjoy popular dishes from the different regions all in one place!" Anton added. "Aside from that, they can enjoy the popular gourmet and artisanal food from our suki Mercato Centrale vendors."
"Our location along SM By the Bay is also a great place to bring tourists, friends and family!" shared Vanessa Ledesma, co-organizer of Fiesta Bahia. "They can take in the beauty of the Manila Bay shoreline, enjoy the weekend fireworks, and listen to live acoustic music while enjoying a great salo-salo meal."
"We're actively looking for food entrepreneurs who specialize in provincial cuisines from all around the Philippines." Said Rache Diaz, co-organizer of Fiesta Bahia. "If you've got a great homemade dish from your hometown, we would love for you to share a taste of your own local culture with foodies from around Manila and the rest of the world!"
Interested food vendors may contact (+63 917) 840-1152 or (+632) 812-0102 or admin@mercatocentrale.ph. Priority is given to those who specialize in regional/provincial food.
Fiesta Bahia is located at SM By the Bay, near the fountain across SM MOA Entertainment Mall, and it is open every Friday, Saturday and Sunday from 4:00pm to 3:00am.