Wild West Roadhouse Grill was formerly called Texas Roadhouse Grill. This restaurant now incorporates Old Western-cooking influences in its menu to treat its guests to an authentic cowboy cuisine.
Li'l Chicken Tenders, Php160.00
Li'l Chicken Tenders
were country-fried chicken breast strips served with sweet corn on the cob and and honey mustard dressing. Because the little boy isn't too fond of corn, we had it replaced with French fries instead. Our son enjoyed this combination. The chicken meat was crispy yet tender and quite tasty, too.
Wrangler's Pork Steak, Php420.00
This
Wrangler's Pork Steak
was what hubby ordered at Texas Roadhouse Grill two years ago, and it was good, so he ordered this again at Wild West Roadhouse Grill. On his plate were two pieces of grilled pork steak topped with melted Swiss cheese and drizzled with au jus (natural juices that flow from the meat as it cooks), plus Wild West rice and veggies. The meat was soft, succulent and savory, and the veggies were fresh and crisp.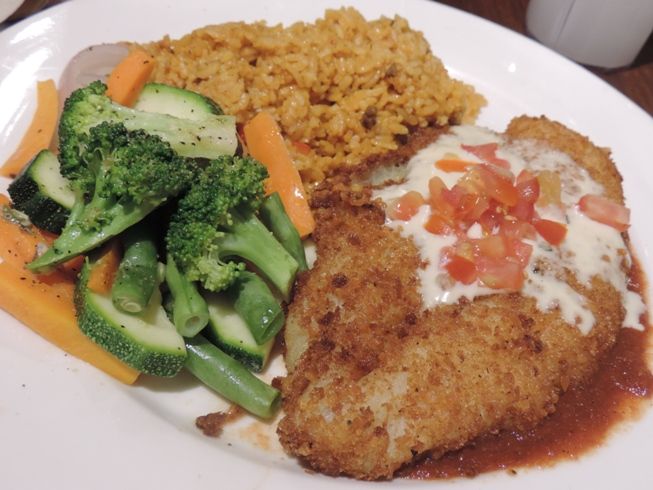 Parmesan-Crusted Fish Fillet, Php395.00
Now, this
Parmesan-Crusted Fish Fillet
was my choice. This is dory fillet breaded with parmesan crust with creamy Alfredo and marinara sauces. Just like hubby's order, this, too, comes with Wild West rice and veggies. I loved how crunchy it was. Taste-wise, it's okay, too. However, the fish fillet was a bit soggy, and this prevented me from fully enjoying this otherwise delectable dish.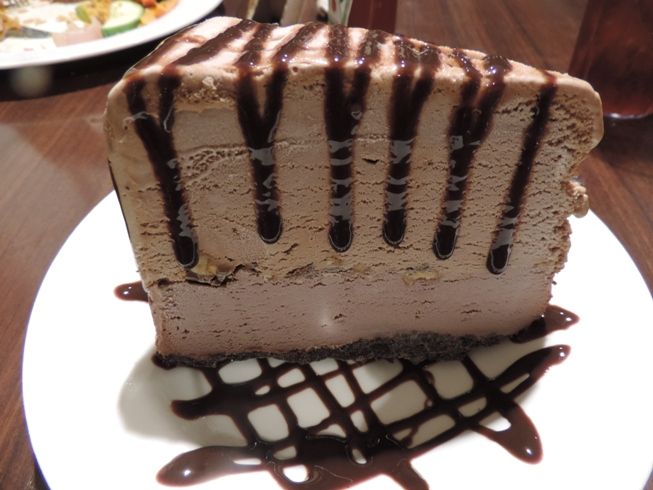 Mighty Oreo Mud Pie, Php285.00
This
Mighty Oreo Mud Pie
was a winner! It's coffee and chocolate ice cream with bits of Snickers candy placed on top of crushed Oreo cookie crust and drizzled with chocolate sauce. The rich taste of coffee and chocolate blended well together in an ice cream cake that is not overwhelmingly sweet. We'd love to have this again on our next visit.
Save for the slightly soggy fillet, everything we ordered at Wild West Roadhouse Grill was good. The waitstaff was quite attentive to the needs of the guests, too. Even the store supervisor hops from one table to another to check how the guests were doing. She even gave my son a free tumbler when Justin told him that what he was eating was yummy. Oh, and if you get to dine there, don't forget to fill out their survey form because you might win a Wild West Roadhouse Grill gift certificate worth Php500 in their Comment Card weekly raffle promo; I just did.
Wild West Roadhouse Grill
6th Level, East Wing
Shangri-La Plaza Mall
Mandaluyong City