I was part of a select group of food bloggers who were invited to the GoodAh!!! Tapa Festival at their Metrowalk branch yesterday. We got to try the three special tapa offerings of GoodAh!!!: Tapa Flakes, Tapa Bacon and the Original Tapsilog.
While waiting for our tapa plates, we were served a bowl of delightfully crunchy and tasty chicharon.
If this sinfully addicting chicharon won't whet your appetite, I don't know what will. All bowls in all the tables were empty by the time our tapa arrived. It was a crowd favorite!
Tapa Flakes, Php129.00
One bite and I was hooked. GoodAh!!!'s
Tapa Flakes
were so good I finished everything in no time. They're perfectly seasoned and oh so crispy! Finely shredded beef flanks were cooked adobo-style then deep-fried to come up with irresistibly yummy Tapa Flakes which were served with garlic fried rice, sunny side-up egg and
atchara
(pickled green papaya)
Tapa Bacon, Php119.00
Itching to try something new? Have a plate of
Tapa Bacon
. For this tapa variant, pork belly strips were marinated with spices and powdered smoked flavor. If you're like me who likes soft and chewy bacon, then you should definitely try this. I took home some of this, and my 9-year-old son liked it a lot.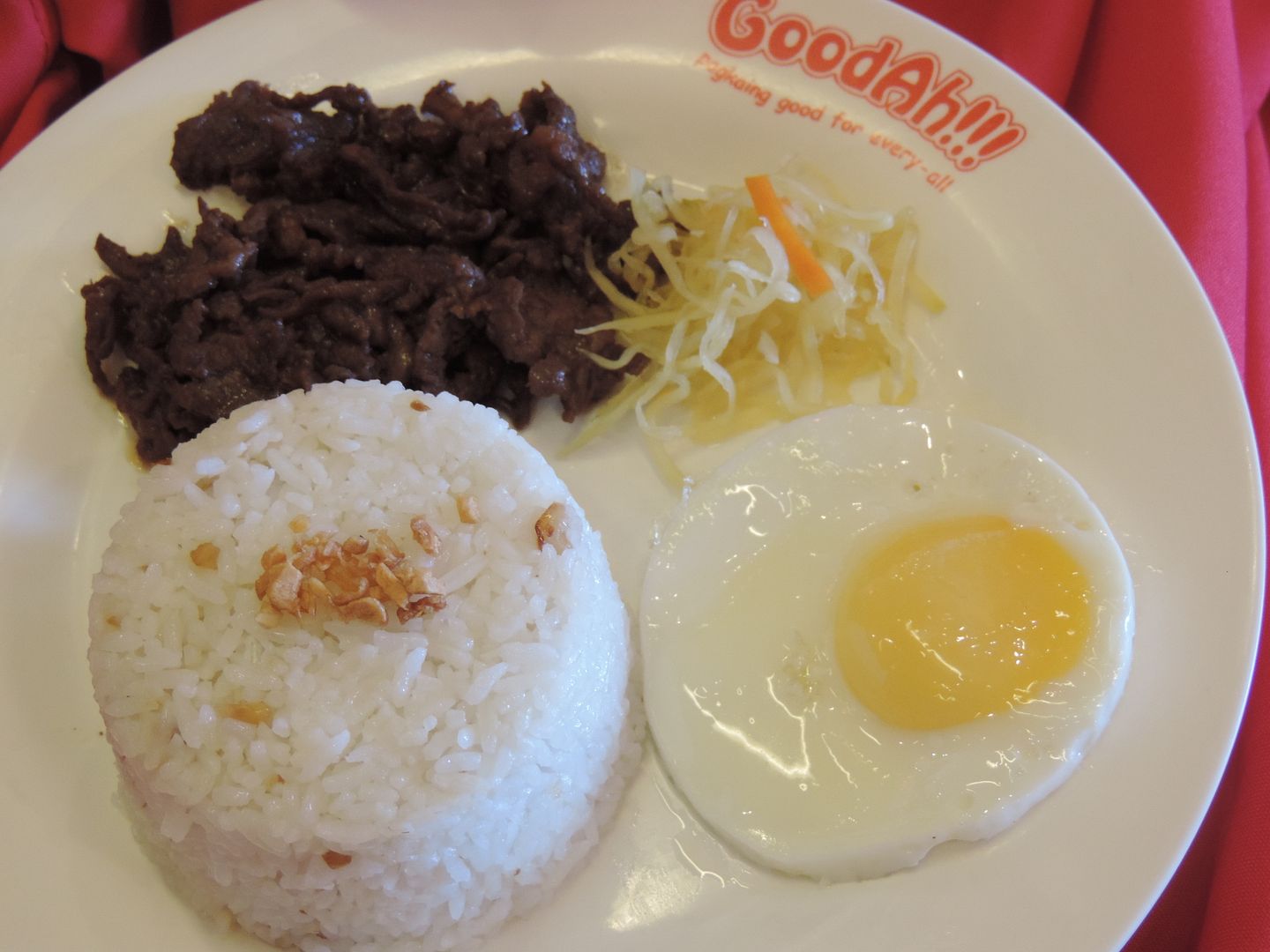 Original Tapsilog, Php114.00
The
Original Tapsilog
is the tapa that started it all. Made with 100% marinated beef sirloin and with a hint of sweetness, you'll love how tender and moist it is. If you're undecided which tapa variant to order, you'll always be safe with this one. All tapa variants are best paired with GoodAh!!!'s spiced vinegar.
Aside from tapa, GoodAh!!! also serves other Altanghap (Almusal-Tanghalian-Hapunan) meals (Tosilog, Longsilog, Bangsilog, Shangsilog), other Pinoy favorites (Beef Nilaga, Pork Sinigang, Pares, etc.), Beef Hotpot, Lugaw, Mami and Chicken and Pork Barbecue, among many others. Treating your family and friends to GoodAh!!! won't cost you an arm and a leg as prices of their food are very affordable. Their waitstaff are friendly and accommodating, too.
Enjoy Pinoy comfort food at its best at the store that never sleeps. GoodAh!!! – Pagkaing Good for Every-All – is open 25 hours a day.
GoodAh!!!
Ground Floor, Metrowalk Commercial Complexst
Meralco Avenue, Ugong
Pasig City
For delivery, call: 4-707070