We had dinner at Tenya Tempura Tendon (Tenya) at SM Megamall early this November. To make our lives easier, we ordered set meals for the three of us.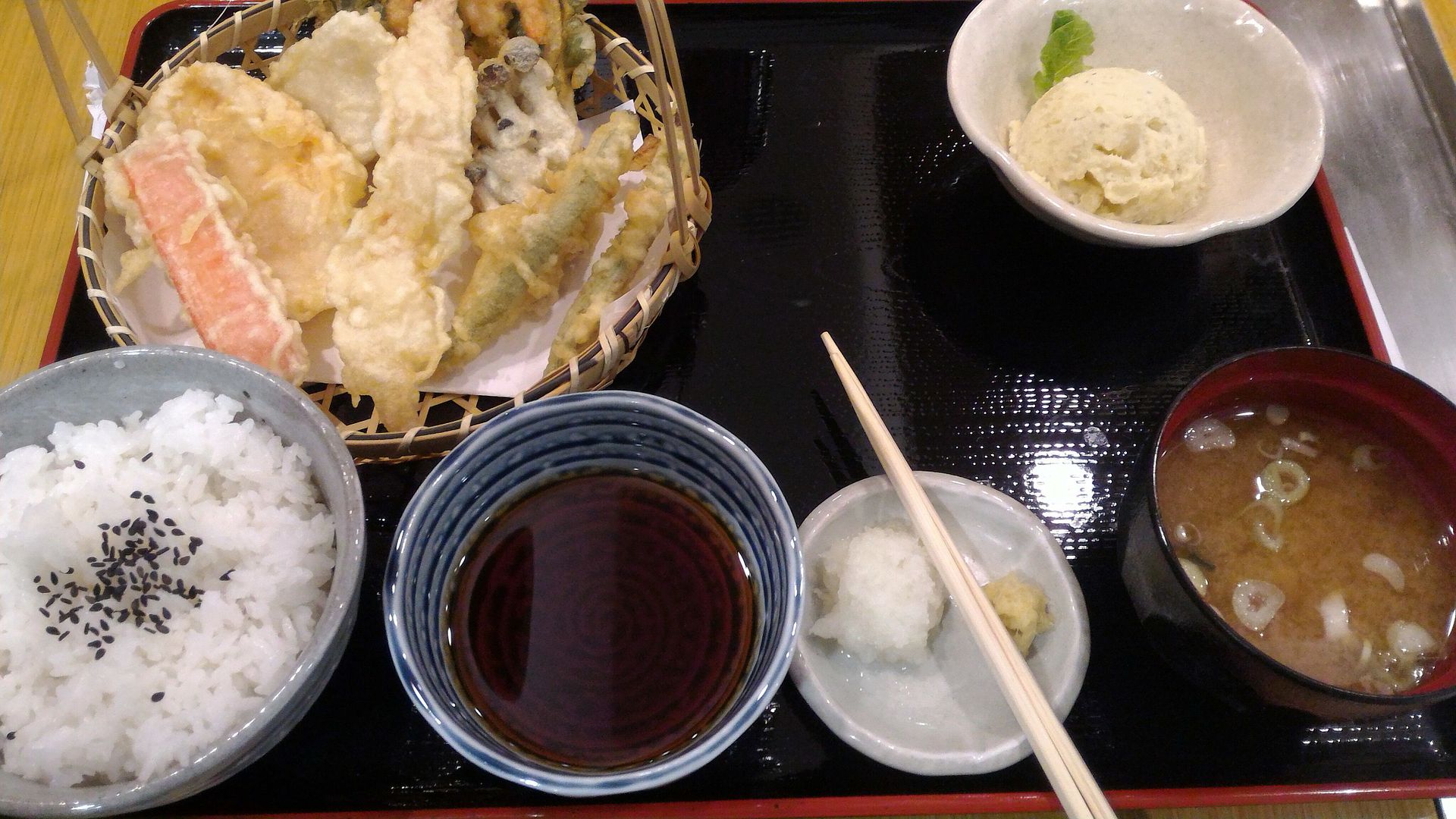 All Star Tempura Teishoku, Php430.00
Hubby opted to have the
All Star Tempura Teishoku
. It's a set meal with prawn, squid, salmon, kani stick, green beans and mushroom, as well as Japanese rice, miso soup, potato salad, radish and ginger. He finished everything on his tray which means he enjoyed his meal. However, I think the price of this set meal is not commensurate with the serving size.
Classic Tempura Teishoku, Php360.00
My order, the
Classic Tempura Teishoku
, has prawn, squid, kisu (Japanese seasonal fish), green beans and sweet potato. Like hubby's meal, this has Japanese rice, miso soup, potato salad, radish and ginger, too. Here are my impressions: First, everything was delightfully crispy without being oily. The squid was soft inside which means it's perfectly cooked. The potato salad was okay, but I'd much prefer kani salad over this. The miso soup was standard. We also had Japanese
okoy
(I don't know what's the Japanese term for this; it's called shrimp fritters in English) in our food baskets (me and hubby's).
This is a close-up shot of the shrimp fritter. Can anyone tell me what this is called in Japanese?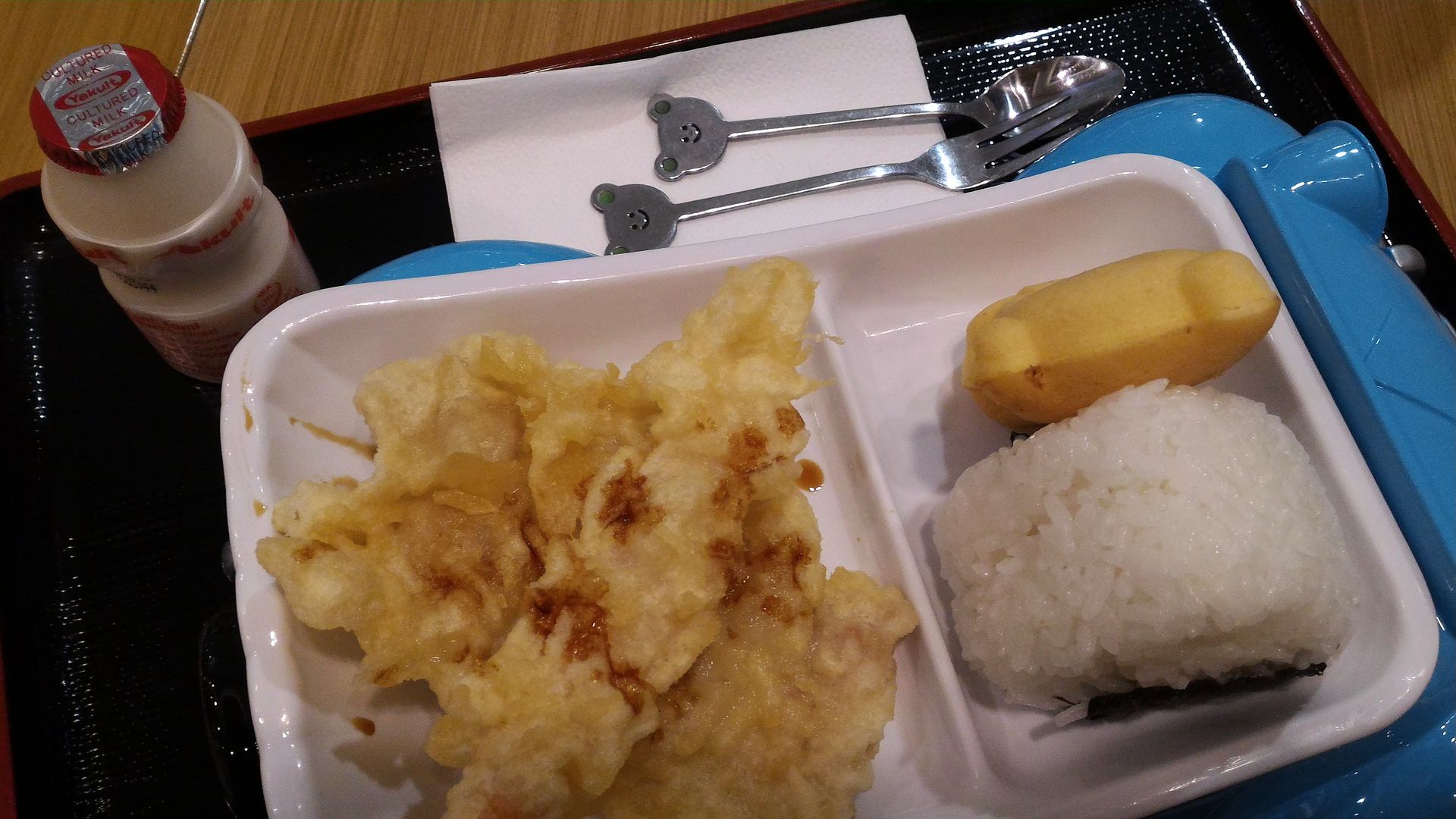 Kids Meal 1, Php245.00
When you order
Kids Meal 1
, you'll get one black tiger prawn, chicken fillet, onigiri (Japanese rice ball), ningyo-yaki (small baked snack cake – the teddy bear) and a bottle of Yakult. Our son loved the prawn and chicken fillet dipped in tempura sauce, but he only took a bite of the onigiri and gave the rest to me. The spoon and fork for kids are really nice, but they're too small for our 9-year-old.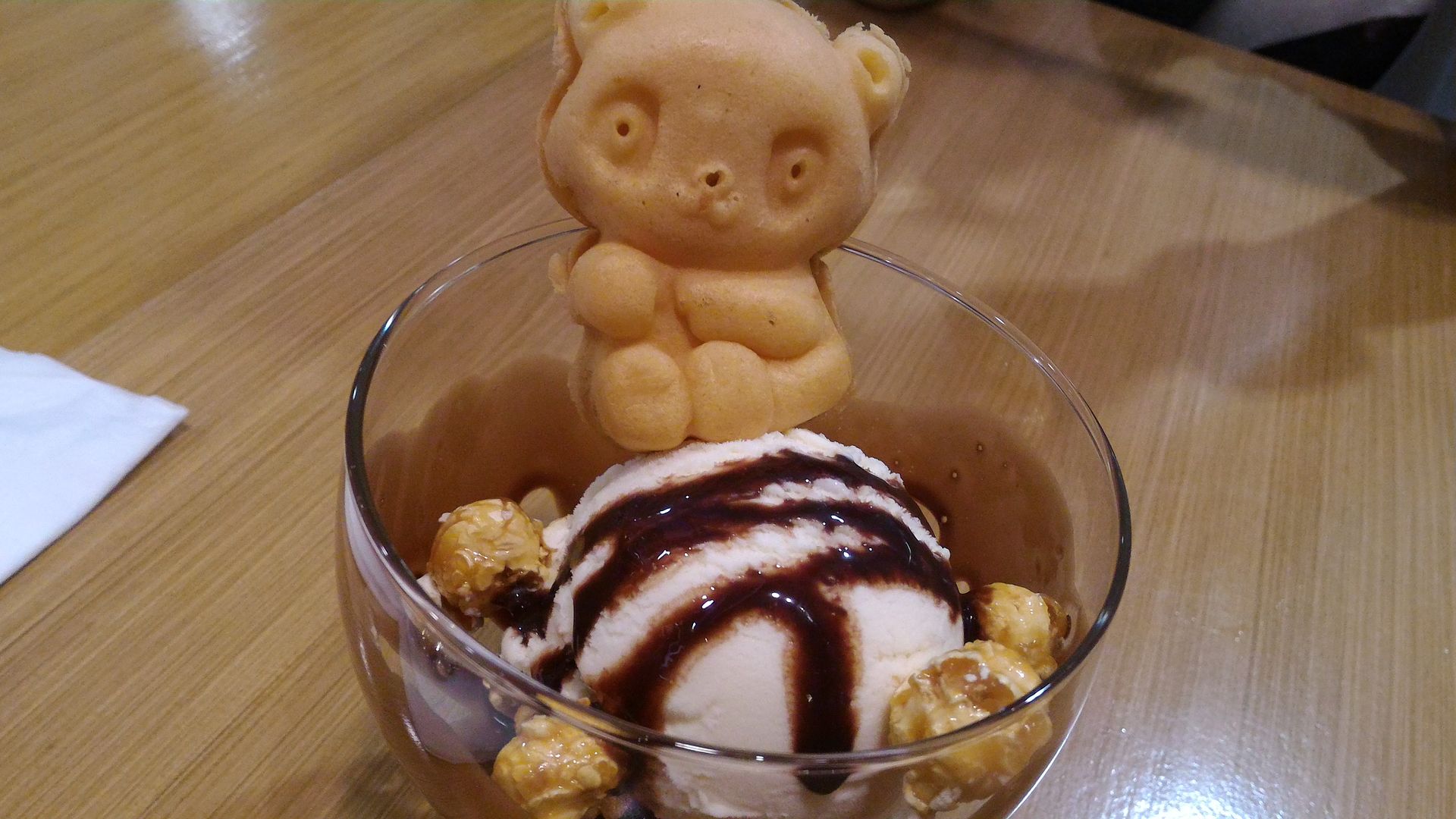 Ningyo-Yaki Sundae, Php125.00
When we ordered
Ningyo-Yaki Sundae
, we didn't know yet that ningyo-yaki was the teddy bear baked cake that was included in our son's kiddie meal. I only learned about it after making a Google search of what we ordered at Tenya. This dessert has the small teddy bear baked cake and vanilla ice cream drizzled with Nutella. According to the menu, this sweet treat is famous in Asakusa, Japan.
Despite an order mix-up – we were given an appetizer that wasn't ours — it was a pleasant first visit to Tenya. Next time, we'll try their Tendon (rice bowl).
Tenya Tempura Tendon
4th Level, SM Megamall
Mandaluyong City